Caregivers in the Workplace Part 1: Testimonies
Unusual times can drive creativity and evolution in ways we could not imagine, and often in ways we never knew we needed. For years, culturally we have all sought the proverbial work-life balance that was often championed but rarely attained. When work and life collided during the COVID-19 pandemic, all talk of balance went out the window and workplace policies were charged with and, in many cases, forced to meet the change in dynamics.[1] Over the next few weeks, we'll share about the impact of these progressive workplace policy shifts, starting with the personal experiences of a few FMPers, included below. We'll also look at the impacts of DEIA on building inclusive practices for working parents and how the Federal Government is looking to lead the conversation around change for workplace policies, benefits, and flexible work arrangements.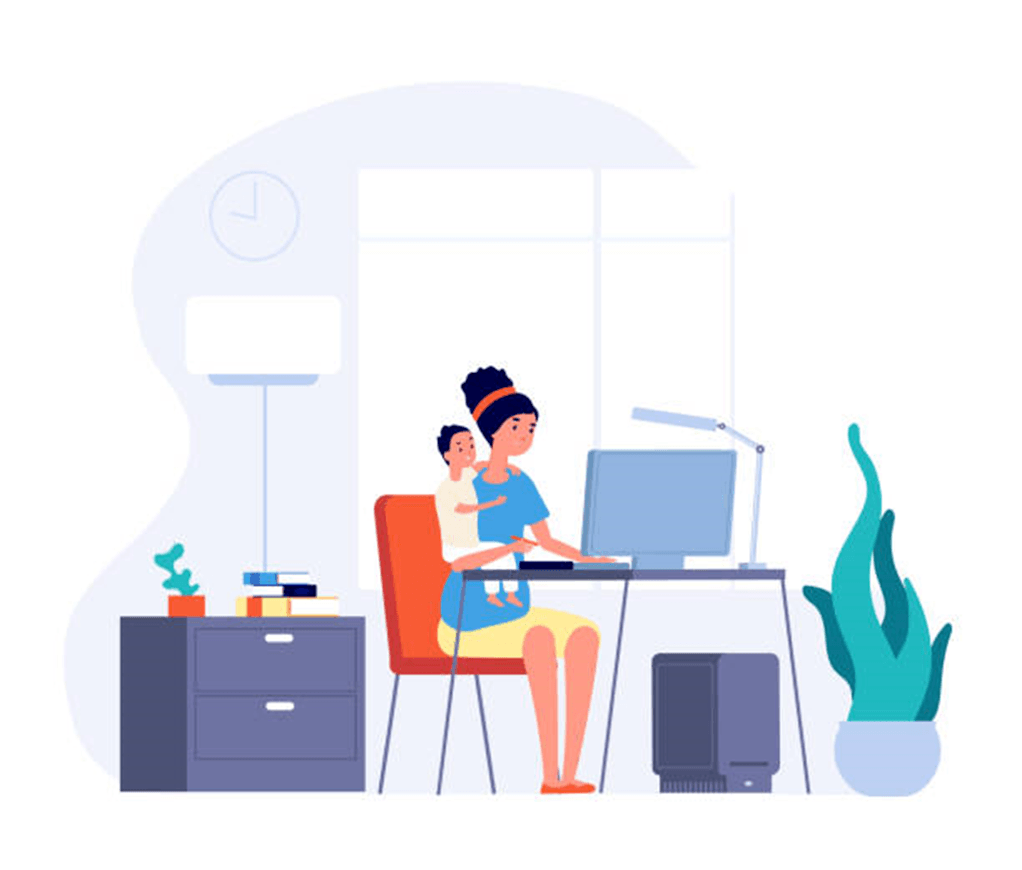 Teresa: I am amazed how much the workplace has changed in the last decade. Eleven years ago, after my oldest was born, I was struggling to navigate long commute times with punctual daycare pickups. My daily life felt like a critical path of milestones with little wiggle room for traffic delays, meetings running over, or just a simple pause for a breath. I managed survival for a few years, but not long after my second was born, I decided to pause my career and stay home with my kids. Going from a full-time working parent to a full-time stay at home mom was no easy transition. While I was no longer rushing around, I struggled to embrace my new identity and missed using my analytical and strategic thinking skills. However, between my growing family and then the COVID years, the time was not right to re-enter the workforce. I paused my career for seven years. When I decided to start looking for work, I was amazed at how much has changed. Remote work, part-time, and flexibilities were no longer "bad words" that could not be uttered. In my second-round interview with FMP, I was asked about my interest in working full-time on a client site. I gathered up the courage to admit that I was hoping to find part-time employment, and I was so relieved that I was met with acceptance.
Sabrina: There's no perfect work schedule for a parent because no parent is the same as the next. Having a 12-year-old daughter in middle school that participates in after school clubs, sports, and private dance determines my "perfect" work schedule and it changes by the season. My daughter has been dancing since she was five and every year; her love for it grows. So, what started as a one-hour class, once per week has now turned into five 1 ½ hour classes each week, Nutcracker rehearsals in the fall, end of year recitals in the spring, and multiple weeklong dance camps all through the summer. Therefore, my perfect work schedule might be 8am-5pm one day but 12pm-9pm the next just so I can ensure that she makes it to her costume fitting at 10am. Previously, I had to use a good amount of my PTO hours to ensure that I never missed a rehearsal or performance or even her being fit for her first pair of pointe shoes. However, now I'm able to save those hours for the much needed "real" time off that both of us need at times, whether it's to take a trip or simply have a girl's day at the spa. I appreciate the culture that FMP provides when it comes to flexible work schedules because it allows me to balance all my work priorities while not having to worry about the ever so dreadful mom guilt.
Tristine: As a plucky sophomore intern in DC, I told one of my professors that despite, whatever barriers I might face, I was going to find a way to make my life's ambitions happen. He smiled knowingly with wisdom I'd yet received. I was the first in my family to go to college, #masterit, travel the world, break salary barriers, and build a life in a new place. I felt I could have and do it all…then my daughter entered the chat and now those words I've heard recently from some of the most successful women are bringing a reckoning… "You simply can't have it all." During her recent book tour, Michelle Obama noted that as a woman and particularly as a parent, you can't have it all…at least not at the same time. One of my dear friends who currently is a VP at a local university reiterated this saying, "Tristine…You can't be 100% of everything everywhere." So now life is about finding harmony…how to make Mom Me, Day to Day me, and ambitious me sing in harmony. My first days at FMP immediately taught me there was space for all three, which eased a lot of anxiety. One of my onboarding meetings was rescheduled by a Managing Partner to accommodate picking up her child. For her, that was most important in her day, and I was relieved to know that I was coming to a place that cared about that aspect of who I was becoming. As we reflect on the many identities we wear as parents, caretakers, and guardians of our families, I want to emphasize we work in a human-first place that has demonstrated a level of care about who we are and all that we will become. This is on display in both practice and policy.
As shared through the lived experiences in this blog and amongst many who feel the additional stressors of wearing the hat of both caretaker and worker in the same space, workplace policies continue to be critical to the engagement of employees. Flexible work schedules give parents a better opportunity to choose the schedule that fits their needs best, not miss important events, and find harmony between the many identities that we hold as caretakers. Having flexibility removes the additional stress and anxiety of worrying about life's priorities and allows employees to be fully present at work.
Share your thoughts about workplace policies that benefit you and your family and stay tuned for part 2 of this series where we'll discuss the impacts of DEIA and how it builds inclusive practices for all types of working parents and caregivers.
---
[1] https://www.mckinsey.com/industries/healthcare/our-insights/covid-19-and-burnout-are-straining-the-mental-health-of-employed-parents