FMP leverages best practices from both the public and private sector and tailors solutions to each client's unique environment. Our breadth of capabilities covers the full employee lifecycle, including Talent Management, Talent Acquisition, Talent Development, and People Analytics. As a result, the expertise of the FMP team enables us to seamlessly make a positive impact on the distinct challenges of the departments, agencies, and associations we have served.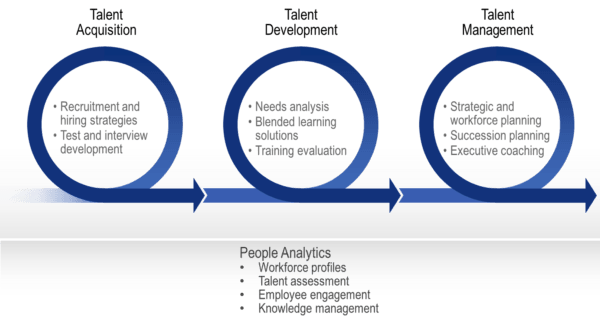 Talent Acquisition
Develop and implement recruitment and hiring strategies to meet current and future workforce needs. We work with you to determine who, what, where, and when to recruit talent for your organization. We also develop tests and interviews to ensure you select the best from your applicant pool.
Talent Development
Develop holistic and individual strategies to improve the performance of executive, management, teams, and individual contributors. This ensures individual goals align with organizational goals, ultimately improving employee engagement and productivity. Available services include:
Needs analysis
Off the shelf training
70/20/10 implementations
Blended learning training (e.g., in-person, asynchronous, virtual)
Training evaluation (FMP is an affiliate of Kirkpatrick Partners)
Talent Management
Set workforce planning and succession management strategies so your organization knows the levels of employees and skillsets needed, and has a structured pipeline to identify and develop technical and leadership talent.
People Analytics
Identify, validate, and integrate data and data sources to develop workforce indicators that support leadership decision-making. By defining the specific questions your organization is trying to answer, data analysis stops being overwhelming and starts providing valuable, actionable information you can use to drive targeted and intentional success. Examples of people analytics include:
Talent assessment – assessing current talent and talent needs can help inform the acquisition, development and management of your people. We validate and/or leverage pre-existing critical competencies for each position and administer assessments to determine gaps between current and target proficiency. Based on these gaps we develop and implement strategies to close them through a mix of (1) recruitment and selection, (2) training and development, and (3) contracting, depending on your immediate versus long-term needs
Development, analysis, and/or action-planning of employee engagement information
Development of dashboards and analytics tools that answer what-if questions for managers and executives
Showing linkages between organizational and individual goal alignment, pay for performance, total rewards, and employee engagement
Assessing the connection between compensable factors, position, and incumbent pay, considering both internal (equity) and external (market alignment) data
Establishing metrics to evaluate the ROI of initiatives and programs
To maximize your human capital strategy, we ensure your talent management, talent acquisition, talent assessment, talent development and people analytics practices are integrated. We work with you to understand the complexities of your programs and develop a phased implementation to accomplish key short- and long- term priorities to meet your organization's strategic objectives.
Private and Non-Profit Clients
American Red Cross
Amtrak
ASCD
ASCO
FINRA
Goodwill
Keppler
Mariners Museum
NAMSS
National Trust
NIB
National Public Radio
PCORI
SHRM
United Bank
World Bank
World Food Programme

Save
Save
Save
Save