Deliver More Value to Your Learning Organization with these Cost-cutting Tips
January 23, 2017 in Learning
By Stacy Cook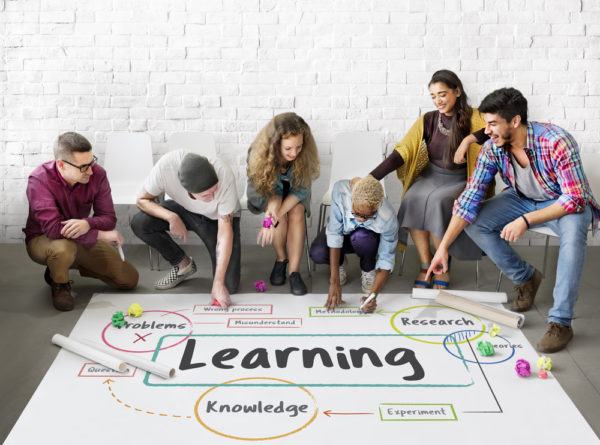 According to Training Magazine's 2015 Training Industry Report, business spending on training is at a six-year high coming in at a whopping $70.6 BILLION for 2015. Sounds like great news for training professionals, right? Unfortunately, the other revealing finding is that the amount spent on full-time staff is down to a four-year low. What does it mean when organizations spend MORE money on training, but LESS money on training professionals?
It means we have to show our value, now more than ever.
That's right, every learning professional out there, from instructional designer to learning manager to Chief Learning Officer, is under more and more pressure to work smarter (and harder, for that matter). But there is good news. The savvy learning professional knows how to be a good steward of their organization's bottom line, which is a great way to demonstrate value. Looking for a few good techniques? Below are four cost conscious techniques that every learning professional should know.
Technique #1: Gather Requirements Like a Boss
You've probably been there before. You're halfway through a project and things start getting out of hand. The customers change their mind mid-way through. You have to throw out old work and take up a new direction. They want multiple revisions and start bringing in new stakeholders.
Usually, this is the work of insufficient requirements gathering.
When learning professionals are in an order-taker mindset, they gather requirements like Amelia Bedelia. They take all requests very literally and stop gathering information once surface-level needs are uncovered. If we don't explore the performance problem that is driving the training need, how are we ever going to please our customers?
Instead, skilled learning professionals know how to gather requirements like a boss. And no, I don't mean this in a slang sense. I mean they know how to think like a business leader when gathering learning requirements. They ask a lot of questions from a lot of different stakeholders. They try to look at the performance challenge from many angles to really determine what needs to be done. Looking for a few good questions to ask? Here are some from my repertoire.
The training just happened and it was a massive success. What do you see around the office that looks different than it did before?
Who is going to have strong opinions about this training? Why?
How has this skill shortage prevented your team from getting their work done?
What will happen on your team if they don't learn this new skillset?
Why should learners care about taking this training? What's in it for them?
What would get in the way from this training being really successful?
How are we going to reinforce the learning once the training event is over?
Technique #2: Write it, Speak it, Live it
Once you have your answers, it isn't over yet. Sit down and write up the requirements for all that are involved. At a minimum, include the following sections in your document.
Business/Mission Need for the Training. Be sure that everyone can see, in black and white, what is driving this training need. This should be something tangible and meaningful to the organization. If taking this on doesn't improve work in some way, then it isn't worth pursuing. Oh, and keep it to 100 words or less.
Target Audience. Most learning professionals are familiar with an audience analysis. This section is quite similar. At a minimum, you should be able to clearly (and succinctly!) state the target audience's motivation for attending, the new skills that training will build, and the behaviors that must change once they return to their job. Of course, you should also gather information about demographics, location, cognitive characteristics, specific prior knowledge, affective characteristics, and social characteristics. But, you might save this information for your own internal documentation.
Necessities for Success. Often overlooked, this section clearly describes what needs to happen for the training to be successful. This might include stakeholder participation in the training design, executive support upon rollout, ongoing supervisor support after the training, and other similar things. Show this to your customer and make sure they have the wherewithal to protect the investment they are about to make in training.
Timeline and Review Schedule. Are you planning for one round of revision or two? How many revisions does your customer want? Do you know who will be involved in the reviews? Who is the final decision maker? How much time do they need to provide their input? Do they plan to send you revisions in writing or should you schedule a meeting to collect feedback? Both? This section provides answers to all of these questions. Make sure you have a solid appreciation for your stakeholders' time and confirm all your assumptions with them before the project gets started.
Once you're done, and this is important, DO NOT email it to your stakeholders. This is recipe for deletion. Instead, schedule some time to sit down and walk through it one last time with the people who are going to be impacted by the project. You'd be surprised at how often this last meeting reveals some new information that would have derailed you down the road.
This might seem like a lot of meetings, but it will save you a lot of time and money down the road.
Technique #3: Carefully Choose Your Tools
There are SO many tools out there today and I'm sure you can justify purchasing many of them, but the truth is, you don't need them all. Of course, you don't want to be left behind when it comes to new creative developments in e-learning technology, web conferencing, etc., but similarly, you don't want to be:
stuck scratching your head as you attempt to figure out how to use them; or
paying for bells and whistles you don't need.Many tools just put you behind and waste valuable time.
The trick is to find a suite of highly compatible tools that is user-friendly and has the capabilities you need. When you see the latest tool come out, take a good look at the specifications. Are the new features frivolous and just the most recent passing gimmick? Decide if you need them and if they are going to bring the total value to what you can offer.As an additional point, costs can quickly add up with tools that have add-on fees. Be sure to research costs for start-up, support, features, and any other fees before deciding on any tool or technology.
Technique #4: Build Efficiencies Into Your Work
The third method is to work smarter, not harder. There are some things you can do that will help you to be more efficient with your time. Here are just a few ideas.
Multi-Device Compatible Authoring Programs
This one is a great time saver, particularly for e-learning development that will go out on multiple devices. A multi–device compatible authoring program allows your e-learning project to be viewed on multiple devices without additional programming. If you're building a website, a good tool is Webflow which has responsive design already integrated into their platform.
Master Courses
At FMP, we are big fans of custom content. Having a customized course creates a richer learning experience for learners because the examples and activities are based on their real world.
At the same time, we know that having off the shelf content means we can deploy great, time tested learning at a rapid pace (and for a great price).
Have the best of both worlds and consider building your own master course library. Build your content around the competencies that are important for your organization (or your client organizations) and make sure the concepts are conceptually strong. Then, when you have the opportunity to deliver your content, do a quick customization call with your stakeholders to make sure it fits like a glove. We tend to focus our customization efforts on customizing activities and adding in organization specific information.
For example, one client asks for a workshop on delivering difficult conversations. In our conversations with the client, we discover a dozen different examples of the tough conversations that their supervisors face. Then, we take our master course and tweak the activities, making them scenario based and orienting all the scenarios around their real world challenges. This effort isn't time consuming, but it yields a better (and very cost effective) solution.
You can use the same approach with your e-learning courses. Just be mindful that there are a lot of really great courseware available from places like Lynda.com or Skillsoft. Before you reinvent the wheel, you may want to take advantage of those offerings and build upon them (rather than replace them).
What to Take Away
In conclusion, well, thought-out preparation and a good grip on the help available out there will enable you to cut your costs and maximize returns on your instructional design courses. Do you have any other cost saving hacks that you've learned in the process of your ISD career?