Employee Spotlight: Candace Cronin
Today, we get to hear from Candace Cronin, a Senior Advisor here at FMP. Candace is a native Texan who lived in the Northeast and DC Metro area for about 12 years combined. Although she is glad she left Texas for a time to appreciate other parts of the country, her family has since retreated to Austin, Texas, which she loves because it welcomes people from all over the world. Candace holds a masters and doctorate in industrial-organizational psychology and is excited to be coordinating FMP's presence at the SIOP conference this year. Keep reading to get to know Candace!
What is something you are passionate about?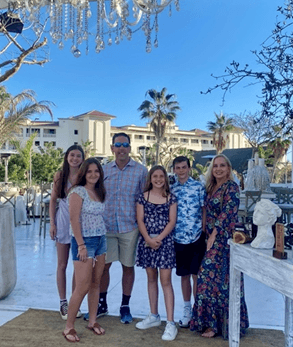 I am an Industrial-Organizational Psychologist with my bachelor's from the University of Texas at Austin (Go Horns!) and my masters and doctorate from Penn State (Go Nittany Lions!). As for how to best describe me, I am a "people-lover" and textbook extrovert. I truly desire getting to know the life stories and experiences of others. The more different you are from me, the more I am eager to get to know you and hear a different perspective! My friends and family would say, "she knows no stranger." I describe myself as the opposite of a "misery loves company" person. Whether I am down or elated, I am eager to celebrate others – bring on all your stories! I am also here for the hard talks too; little scares me away.
One thing I am most passionate about is advocating for children in foster care. I am a former foster parent, Court Appointed Special Advocate (CASA), and Board advisor to a non-profit for foster families. I have four teens – okay, one preteen and three teens – but my youngest knows all the teen ways already! Two of my four children are adopted, so I am eager to talk all things foster care and adoption at any time. No questions are too tough for me. I love mentoring other families and walking alongside their adoption stories; it is truly one of the most honoring roles I have had.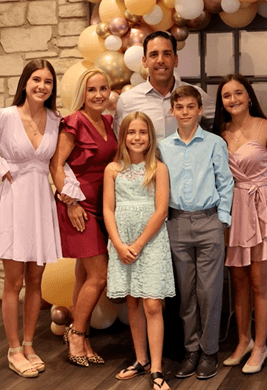 What do most people not know about you?
I am petrified of heights and yet have paraglided in the Swiss Alps, parasailed in Mexico, climbed to the top of Notre Dame and the Eiffel Tower, hiked steep cliffs, and ridden in a helicopter through waterfalls in Hawaii. For me, letting fear dissuade me from adventures is worse than having the actual fear itself. But yes, I am also saying lots of prayers in those moments, and my heart is racing at epic speed! I am also a proud registered member of the Citizen Potawatomi tribe. I had a dear uncle who told many sad stories of the abuses he witnessed personally for Indigenous people. In honor of his legacy and my ancestors, I registered with the tribe as an adult.
What brought you to FMP?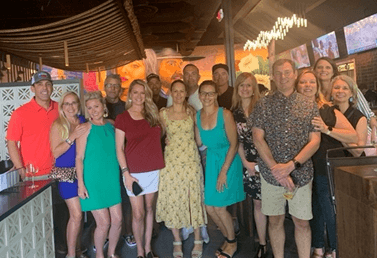 I came to FMP after celebrating my 21st anniversary with my prior employer; I am a loyalist at heart. I have zero negative things to say about the colleagues I left behind. In fact, I try to stay in touch with them regularly. But FMP has always had such a positive reputation in the Federal consulting space, and I was eager to branch out in a new way. I also love working for a woman-owned business. I now serve as a Senior Advisor to FMP client projects.
What 3 words would you use to describe FMP?
I would describe my FMP colleagues as bright, creative, and kind.
What is the most rewarding aspect of being an I-O psychology practitioner?
My favorite part of my job has always been learning about the jobs of others. One of the most fundamental capabilities of I-Os is job analysis, and I just love some traditional job analysis work from time to time.
What are you most looking forward to at the SIOP conference this year?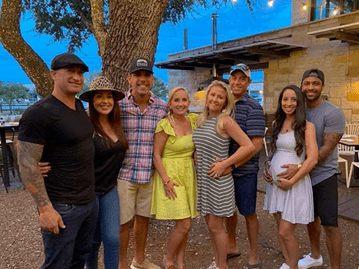 I love seeing the faces and hearing the brilliant perspectives of those I have respected in my discipline and even called friends for decades now. This year, I will serve as FMP's SIOP Conference Coordinator. This means I will be the one helping my new colleagues stay connected at the conference and promoting knowledge-sharing among them. I also look forward to meeting potential candidates for FMP's job opportunities. Further, I look forward to meeting up with former and existing clients face-to-face. As I mentioned, I am an extrovert, so being near people with diverse views, but in this case, related career interests, is really exciting for me.
---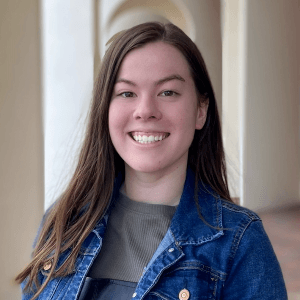 Zoe Nerantzis joined FMP as a Consultant in May 2021 and works with the National Science Foundation team by supporting NSF's learning and development branch. Zoe is from Rockville, Maryland and can generally be found reading fantasy novels, working out in her basement, or rooting for the Washington Football team.