At FMP, we take employee wellness seriously. We know that having a healthy, balanced lifestyle affects more than just your work; it affects every aspect of your life. That's why FMP dedicates time and attention to creating a workplace that supports our employees, responds to their needs, and encourages them to bring their whole selves to work. Before we talk about how wellness is incorporated into FMP's workplace and culture, here's some broader context about workplace wellness programs.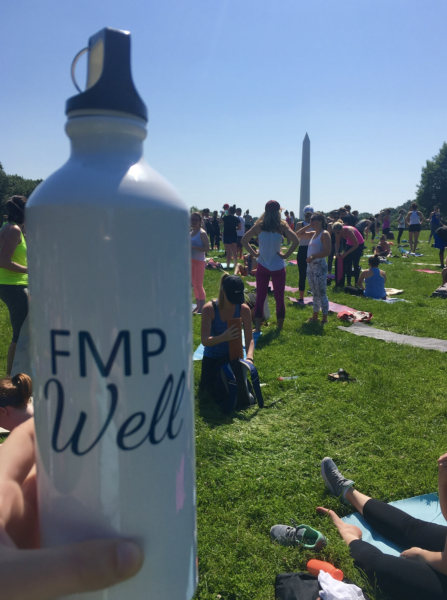 Wellness programs are becoming increasingly popular in US organizations both large and small. Hundreds of studies show that these programs yield positive outcomes for both employees and employers. For example, in 2013 the Rand Report authors concluded that "workplace wellness programs can help contain the current epidemic of lifestyle-related diseases, the main driver of premature morbidity and mortality as well as health care cost in the United States". Wellness programs can also save organizations money. Johnson and Johnson estimated that wellness programs saved the company $250 million on health care costs from 2000-2010, with a return on investment (ROI) of $2.71 for every dollar spent. An internal analysis done by H-E-B showed that annual health care claims were $1,500 lower among wellness program participants with a high-risk health status than among nonparticipants. At the software firm SAS Institute, voluntary turnover is just 4%, thanks in part to their wellness program (https://hbr.org/2010/12/whats-the-hard-return-on-employee-wellness-programs).
Successful wellness programs all have several things in common: leadership participation and dedication to creating a culture of wellness; alignment with the organization's values and identity; focusing on diverse aspects of wellness, not just diet and exercise; accessibility of the program; internal and external partnerships; and rigorous communications. At FMP, creating and implementing a wellness program was spearheaded by our own employees. We took each of these pillars into account and designed a program based on the understanding that wellness is personal, but individuals of all ages, locations, and levels of personal health can benefit from some type of regular physical activity, dietary and nutritional guidance, preventive health screening, and education about healthy lifestyle choices. Recognizing that wellness is an individual responsibility, we found that FMP could provide opportunities for our employees to educate and empower themselves to choose wellness and build healthy habits that lead to a happier, healthier, and more productive self.
To design and develop the concept, mission, goals, and action plan for the program, our internal committee – comprised of volunteers interested in the concept of wellness and promoting it within our workplace – collected ideas and interest areas from FMP employees through team meetings, researched best practices for workplace wellness programs, consulted with a Wellness Strategist from our benefits provider, and presented an approach that aligned with our company values to obtain buy-in from our company leaders. The first year of the program was designed to create awareness and interest in wellness through fun, morale-building, health-oriented opportunities and activities. Subsequent years built on this foundation. Our program focuses on: General Health; Diet and Nutrition; Exercise and Stress Management; and Financial Management. Each year we develop programming in each of these areas based on employee interest and suggestions.
In 2017, our wellness activities were comprehensive and far-reaching. Here's a sampling of our activities in each of our program focus areas:
General Health
Free on-site biometric screenings
Raffle prizes for individuals who received flu shots
Nutrition seminar and 1:1 coaching sessions presented by a registered dietician from B3 Wellness
Benefits fair and workshop focused on effective use of FMP's health plans and services
Diet and Nutrition
Healthy cooking class
Daily availability of fruits, vegetables, hummus, and healthy snack bars in the office
Drop-off site for 4P food CSA and an annual visit from 4P founder Tom McDougall
Exercise and Stress Management
Customized series of physical fitness classes held exclusively for FMP employees by the gym co-located in our office building
Fall and spring softball leagues sponsored by the company
On-site chair massages
Financial Management
Seminars about 401k management, budgeting, debt prioritization, large purchases, and wills, trusts, and estate planning
1:1 advising sessions with a certified financial planner
In our experience, communication is one of the most important aspects of our program. We promote our wellness activities and offerings through an internal and external communication strategy. We communicate to our employees through marketing posters, postcards placed on each employee's desk, entries in our weekly internal newsletter, announcements in monthly employee team meetings, and through office-wide emails. We have also presented ideas and updates on our campaign at quarterly all-hands meetings. Through the use of targeted social media channels such as LinkedIn and Twitter, and our company website, we are able to create awareness about our program and the various activities we offer, demonstrating our commitment to employee wellbeing.
As a result of our wellness program, employees have self-reported increased levels of physical activity and motivation to be active; better eating habits; dedication to reading food labels and making better educated, healthier choices; and feeling happier both physically and emotionally. Happy and healthy employees make for a happy and healthy organization!
If you're interested in learning more about FMP's capabilities and services in this area, please contact BD@fmpconsulting.com.
About the Author: Bryanne, an I/O Psychologist, has been working at FMP for almost 12 years. She provides consulting services for many of FMP's clients, with a focus on the financial sector. She also leads FMP's wellness and charity programs, is a certified Pilates instructor, and spends most of her "free" time running around with her young children. When she's not at the playground or baking, "healthy" treats with her kids, she loves to practice yoga, read, and drink coffee.