A strategic workforce planning model can help organizations not only answer this elusive question, but also help them get the staff they really need. However, there are numerous misconceptions about workforce planning models – what they are, how to use them, what the numbers really mean, etc. Therefore, understanding what these tools are not is equally as important as understanding what they are. Workforce planning models are analytical management tools that use some combination of quantifiable factors (e.g., number of clients, complexity of projects, budget assumptions, and performance data) to predict staffing requirements. In other words, they use data and analytics to help inform the staffing demand. However, these tools are not a "magic bullet." They do not provide exact "right" answers, nor do they illustrate any final decisions. Instead, their utility lies in providing reasonable projections based on data-driven assumptions that organizational leaders can use to inform their decision-making processes.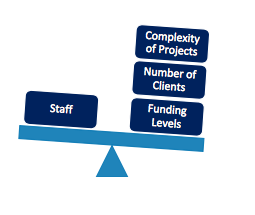 It's also critical to understand that a workforce planning model, no matter how good it is, cannot exist in isolation. These models are only one part of an organization's overarching workforce planning methodology, which should be an iterative, ongoing, and repeatable process. To learn more about the overarching workforce planning process, check out last week's blog: A Quick Intro to Workforce Planning. In particular, workforce planning models help organizations with the Demand Analysis phase of this process by providing information to help leaders better understand their organization's current and future workforce requirements as well as the numbers of types of employees needed to perform the work. In addition to being effectively integrated into an organization's overall workforce planning framework, workforce planning models should be:
Aligned with the organization's strategic goals;
Championed by senior management, who must provide the necessary support to ensure that all offices with responsibility for managing the workforce are actively engaged in the development and sustainment process;
Built in collaboration and coordination with key stakeholders who understand the work (and drivers of the workload) in detail;
Updated frequently to ensure data and assumptions are current and reflect the organization's changing priorities and evolving strategic direction; and,
Representative of the entire workforce. This means employees and contractors, headquarters-based staff and those who geographically dispersed, full-time and part-time employees.
For many organizations (particularly federal agencies that must rely on a variety of complicated hiring mechanisms and are often comprised of extremely complex, multi-sector workforces), this last bullet – building a workforce planning model that is representative of the entire workforce population – is an especially tall order. However, comprehensive workforce planning continues to be a critical focus area across the Federal Government. In fact, every two years, the United States Government Accountability Office (GAO) reports on federal programs and operations that are "vulnerable to waste, fraud, abuse, and mismanagement, or that need broad reform" (aka GAO's High Risk List, which you can view here). In its March 2019 report, GAO again cited strategic human capital management as a high risk area, indicating that "federal agencies must continue developing the capacity to measure and address existing mission-critical skills gaps, and use workforce analytics to predict and mitigate future gaps so agencies can effectively carry out their missions."
To do this effectively, agencies need to first understand their mission and performance goals in order to identify the functions necessary to achieve their organizational objectives. Then, they can determine the appropriate mix of skills and the total amount of labor needed for efficient and effective performance. After an organization identifies the functions necessary to achieve its goals and determines the desired performance and total labor needed, they're ready to assess which workforce sector may be considered to fill each position. To make these determinations, agencies need to determine if the work is inherently governmental (and thus must be performed by a federal employee) or whether the work may be performed by either a federal employee or a private sector contractor. When both sectors are being considered to perform the work, conducting a cost analysis is a critical step. These cost analyses can actually be built into agencies' workforce planning models, so leadership can run cost comparison scenarios to optimize sourcing decisions. In this way, workforce planning models can be used to respond to GAO's findings, ultimately helping federal agencies identify waste and achieve operational efficiencies.
While workforce planning models will never be precise enough to tell you exactly how many staff you really need, they are extremely effective in helping leaders leverage data and analytics to inform key decisions. Specifically, these tools can be used to:
Run cost comparisons to help inform strategic sourcing decisions;
Create targeted recruitment and hiring plans;
Develop succession planning strategies;
Inform budget development and funding allocations;
Justify staffing decisions to key external stakeholders;
Conduct risk assessment; and,
Guide reorganization efforts.
Reference:
US Government Accountability Office. High Risk Series: Substantial Efforts Needed to Achieve Greater Progress on High-Risk Areas GAO-19-157SP: Published: Mar 6, 2019. Publicly Released: Mar 6, 2019. Accessed from: https://www.gao.gov/products/GAO-19-157sp