This month we're exploring how networking and relationships are critical to the success and well-being of both individuals and organizations. We've examined the theories underpinning a lot of the exciting work being done around organizational network analyses (ONAs), how those insights can be applied to important aspects of the employee experience, and now we want to focus on networking. Sometimes networking gets a bad rap, with the perception that building relationships with others is solely about one's personal gain. It is and it isn't. It's true that having a strong personal network can open doors to new professional opportunities and experiences, but it is also important to our well-being (humans are, after all, social beings) and it is the way the world works and work gets done. A network, by definition, creates the opportunity for connections on multiple levels and for multiple purposes- someone in your network has the potential to help you in the future, just as you have the potential to lend a helping hand to others at any given moment.
With that brief persuasive argument, let's get some expert advice on how to build a network and be an effective networker. Sally Colella, a valued partner of FMP with deep expertise in ONAs and networking, is someone that has helped our workforce and dozens of clients and leaders understand the importance of networking and practice applying best practices. So first, why is networking important? Sally would expertly assert that it helps you-
Effectively collaborate, gain influence, scan your environment, and have impact
Broadens your expertise; provides new ideas, supports innovation

Supports career transition and opportunities
Great- all of those are outcomes that we can agree are beneficial. But how do we know that these things actually happen, to positive effect? That's where Sally's experience working with leaders as a coach comes in. She has built on the research of Rob Cross and conducted additional research of her own to study the networks of high-performing leaders to identify the following common characteristics. First, the Structure of a high-performer's network is open. This minimizes insularity and exposes that individual to new ideas and ways of thinking. To do this, you may need to be more intentional about who you include in your network and challenge yourself to create connections that are outside (e.g., industry, discipline, organization) your normal social or professional circle. Second, high-performers create Relationships that extend and they seek to continually develop expertise- both their own and by freely sharing their knowledge with others. Finally, high-performers demonstrate Behaviors that build high-quality connections and provide interesting and energizing interactions. In ONA terms, they are energizers- they don't so much reach out as they "pull" others to them. This puts them in a position where better talent migrates to them and they get better ideas and more innovative people coming to them over time.
So how do they do it? Rob's research shows that high-performers engage in the following network behaviors-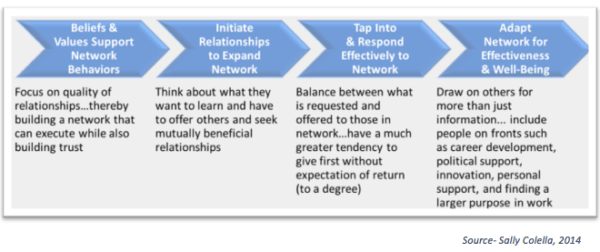 After presenting this background and research, Sally provides her clients with practical suggestions for how to grow a network. These include-
Leverage existing opportunities – sales meetings, off-sites, business trips, or external/internal training
Volunteer for special projects, committees, and assignments that require working across the organization
Be a member of a board or volunteer effort, especially if it leverages your unique skills
Go to SELECT professional meetings, focusing on the quality of the opportunities, not quantity
Stay connected to former associates, friends from school, and people who offer a unique or different perspective
Send articles, make introductions, and stay in touch
Look for informal opportunities – be available and open
Many of these opportunities to initiate relationships already exist in our day-to-day work environments, while others might require more effort to identify. Being thoughtful and intentional about what you hope to gain from the contacts and connections you establish, as well as what you have to offer, is what turns these opportunities into a strong, resilient, and dynamic network.
About Sally: Sally Colella, Principal of Colella & Associates, LLC, is an executive educator, team facilitator and coach who specializes in translating network research into practical approaches that lead to new insights and pathways to reaching desired outcomes. Her current focus is coaching leaders who are interested in developing a network of relationships that are a source of inspiration, resilience and well-being. Recent findings from the neuroscience field inform customized approaches that provide renewal in the midst of demanding professional and personal lives.
Sally is co-author of the Organizational Network Fieldbook, published by Jossey-Bass in June 2010. She has spoken about executive development topics for The Human Capital Institute, the CLO Magazine Symposium and the Conference Board. As an educator with Duke C.E., she worked globally with leaders to increase their awareness of networks and implement targeted strategies to increase effectiveness.
Prior to launching her consulting practice, Sally was an organization development leader at Fannie Mae, The Washington Post and the National Cooperative Bank.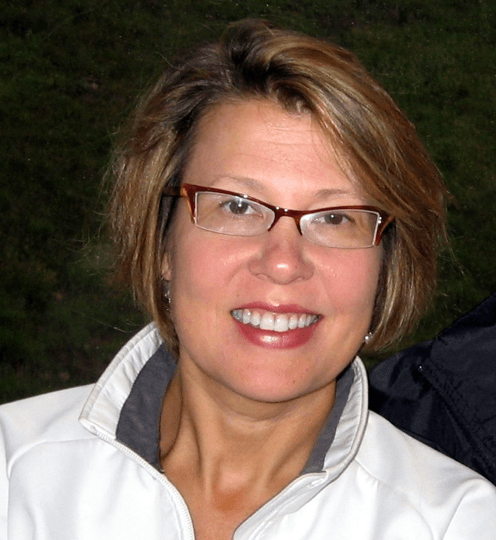 About the Author: As a Business Development Analyst for FMP, Kathleen understands the importance of networking! With a background in Political Science, she loves learning about the connection between people, their environment, and the decisions they make – and seeing it all play out in the consulting world! When she's not helping FMP's proposal process, she likes to spend her time outdoors. Her most recent adventure was exploring Arizona for the first time.