Tried and True Strategies for Building a Diverse and Inclusive Workplace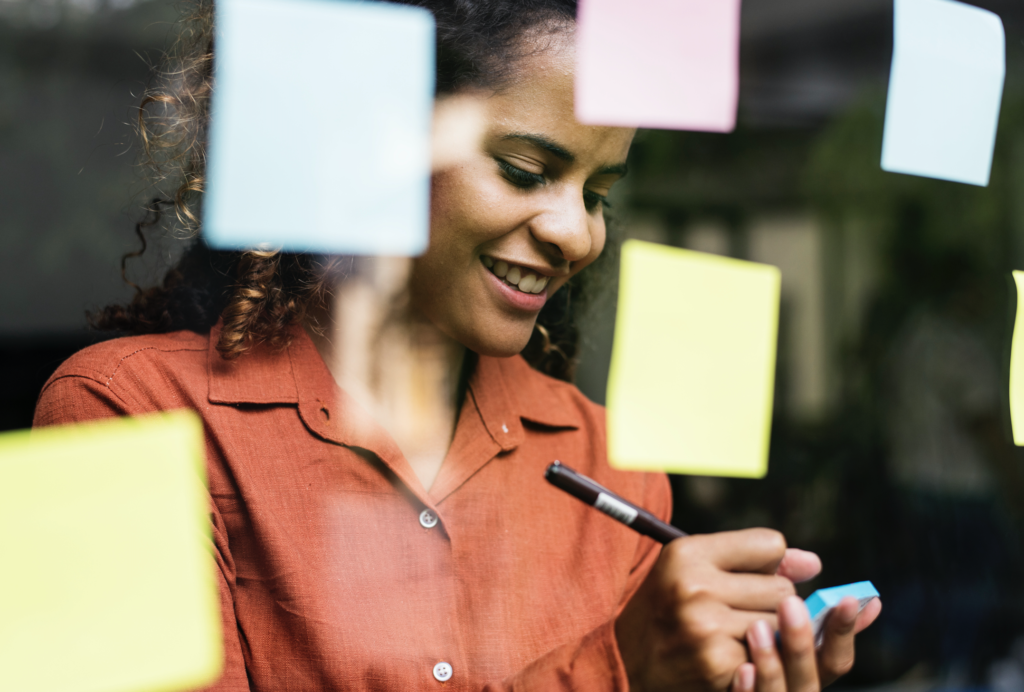 Building on our monthly truism "Great Minds Don't Always Think Alike," this week we delve into the "How" of Diversity and Inclusion (D&I) to examine how organizations can move the needle on both workforce diversity and workplace inclusivity. While there is no one-size fits all approach, there are some tried and true strategies organizations can use to build or take their D&I Programs to the next level. Based on our experience helping federal agencies stand-up and elevate their D&I programs, we believe it is essential to have an organizing framework and clear articulation of the desired outcomes for your effort. While that may be simple in concept, we know it can also be intimidating to start with a blank page. So, let's focus our conversation on how to get started and organized- so you can start seeing tangible results like increased retention and employee engagement.
First things first – as with any successful workplace-wide initiative, you need a game plan. Many organizations make the mistake of skipping this step and just start implementing new D&I programs. As a result, these initiatives often don't have the desired impact or die on the vine. Don't fall prey to that trap! Instead, invest the time and resources needed to develop a formal D&I Strategic Plan and everything else will follow. Think of the D&I Strategic Plan as the foundation for all your organizations D&I efforts, the glue that ties together and coordinates all the initiatives designed to achieve your unique D&I goals. While the effort of developing this plan may seem overwhelming, there are some common approaches that can help steer you in the right direction and keep you on track to success.
Build a Solid Foundation. You can't develop or execute an effective D&I Strategic Plan without first establishing an infrastructure. Think about trying to attach a roof to a house with no walls. A common pitfall is relying on a few select senior leaders or tasking HR to establish a vision and priorities that guide the whole organization's D&I efforts. Just like D&I isn't a one-time initiative, it shouldn't be owned by a small group of leaders or HR. While you do need strong, visible backing from top leadership, that is not enough to drive the cultural transformation necessary to see results. Successful organizations engage employees from across their workforce to develop their D&I Strategic Plan, translate that plan into action, run point on implementing D&I priorities and activities, and provide ongoing ideas and impact.

Take a Deep Dive.Developing a successful strategy requires a comprehensive, complex understanding of all the factors that contribute to diversity and inclusion in your organization. If you want to drive real change, you must delve deep to identify the root causes preventing your organization from being as diverse and inclusive as you want it to be. As we shared in last week's blog "Moving at the Speed of Change," your employees are the most qualified to tell you what needs attention and where to prioritize and focus your efforts, as well as provide ideas and feedback. This means identifying differences in the employee's experience and values across the organization to ensure that change is relevant for each individual. To do this, gather data from anywhere you can find clues. Analyzing results of engagement surveys and offering public and private ways to share concerns and suggestions are two powerful ways to understand your current state of affairs. Some best practice examples our clients have employed include hosting D&I town halls, gathering feedback during staff meetings, opening anonymous suggestion boxes, gathering feedback from Employee Resource Groups (ERGs)and hiring external consultants to conduct focus groups and interviews with employees.
Develop your Game Plan. Now that you've pinpointed your major pain points, you can take a step back and determine your D&I goals, priorities, and corresponding activities. This starts with a vision that defines what a diverse and inclusive workplace means to your organization, and then lays out an actionable plan for addressing the root causes identified during your deep dive. When identifying your goals and priorities, don't shy away from the tough stuff.In many cases, finding strategies to address the root causes and overcoming your barriers means you have to confront the elephant in the room! And as we all know, that is scary stuff. But it is this level of commitment and work that yields the best results. Once you have a clear vision and understand your goals and priorities, you are ready to build out your roadmap for getting there. Best in class D&I strategic plans include the ingredients outlined below.
Keep at It. Establishing and maintaining a culture that values and promotes D&I requires sustained attention and engagement from across all levels of the workforce. Cultural change takes years and the most successful efforts often require multi-year activities. Take the time once a year to review your progress against your metrics and adjust your plan accordingly.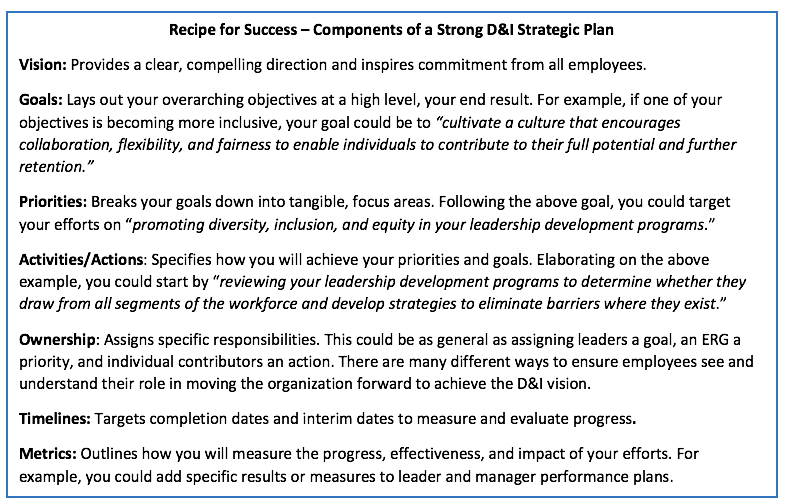 If you really want to move the needle, make smart investments in your D&I program that will pay off in dividends. For more information, or to learn more about how FMP can help you with your D&I efforts, please contact BD@fmpconsulting.com.
Sources for more information:
https://www.cio.com/article/3262704/diversity-and-inclusion-8-best-practices-for-changing-your-culture.html
https://govinfo.library.unt.edu/npr/library/workforce-diversity.pdf
https://www.diversitybestpractices.com/
https://www.forbes.com/sites/forbescoachescouncil/2017/09/06/steps-and-best-practices-for-creating-an-employee-suggestion-program/#6c2c491570bf