Contract Description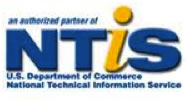 The Department of Commerce (DOC) National Technical Information Service's (NTIS) mission is to collect and organize scientific, technical, engineering, and business information generated by U.S. government-sponsored research and development, for private industry, government, academia, and the public. As part of this mission, NTIS is authorized to enter into joint ventures where NTIS and a private sector entity coordinate to offer a new or improved information product or service and share in revenues in accordance with their contribution to the venture. FMP was excited to be granted a partnership with NTIS in 2013 and together, the organizations now offer a wide range of training and development, strategic human capital support, as well as Information Technology (IT) focused service offerings.
Agency: Department of Commerce
Managed by: National Technical Information Service (NTIS)
Services: 1) Learning and Knowledge Management Consulting Services; 2) Enterprise Assessment and Strategic Planning; 3) System Integration Support Services; 4) Content Development Service; 5) Learning Management Systems and Service; and 6) EHRI Guidance and Coordination
Contract type: Firm Fixed Price (FFP)
Contract Process
With a simple Memorandum of Agreement or Interagency Agreement, clients can engage NTIS and FMP to gain access to all services associated with the service offerings listed above.
Sample Services
Curriculum Design and Development
Training Needs Assessment
Competency Modeling and Gap Analysis
Skill Assessment
Career Mapping and Development
Training Development and Delivery
Web-based and Blended Learning Solutions
Rapid Instructional Design
Career Development Technology and Tools
Learning Management Systems (LMS)
Other Knowledge Management Solutions
Technology-Based Training
Executive Coaching
Mentoring Programs
Leadership Development
Management Training
Learning Aids and Performance Support Tools
Training Evaluation and ROI Analysis
Workload and Staffing Models
Employee Engagement Planning and Solutions
Workforce Planning
Succession Planning
Strategic Planning and Business Solutions
Survey Design and Analysis
Metrics, Evaluation and Reporting
Recruitment, Selection and Retention
Candidate Assessment
Hiring Reform Improvements
Veterans Employment Initiatives
Position Management and Classification
Compensation, Benefits and Work-Life
Employee and Labor Relations
Performance Management
Policy Analysis and Development
HR Transformation and Innovation
Organizational Design and Assessment
Requirements Definition and Analysis
System Design, Development and Evaluation
Software Development and Solution Design
Process Analysis and Improvement
Program Management and PMO Support
Quality Assurance
Section-508 Compliance
Data Management
IT Reporting and Documentation
Human Resources Line of Business (HRLOB) Transition
Automated Recruitment Systems and other HRIS Tools
Web Design and Development
Human Capital Dashboards
Program Evaluation
Change Management
Strategic Communication
HR Systems Development and Integration
Contract Information
Title: NTIS Joint Venture Partnership
Vendor: Federal Management Partners, Inc.
Contract Number: NTIS-2327-2018
Contract Period: September 2013 to August 2018
Business Size: Not Applicable
Contract Questions