SIOP 2023: Reflections from FMP
The annual SIOP (Society for Industrial and Organizational Psychology) conference has come to an end and we've gathered our team's reflections on their experience and what they learned! Each year, the conference brings I-O psychologists from all around the country together to share knowledge and connect with individuals who are bringing about change and impact in the field. Many FMPers were able to attend and are excited to share their stories and experiences at this year's SIOP Conference!
The SIOP conference is a great opportunity to meet and connect with others in the field. What was your favorite interaction or networking opportunity? (Can be fellow FMPers, clients, old classmates, new connections, etc.)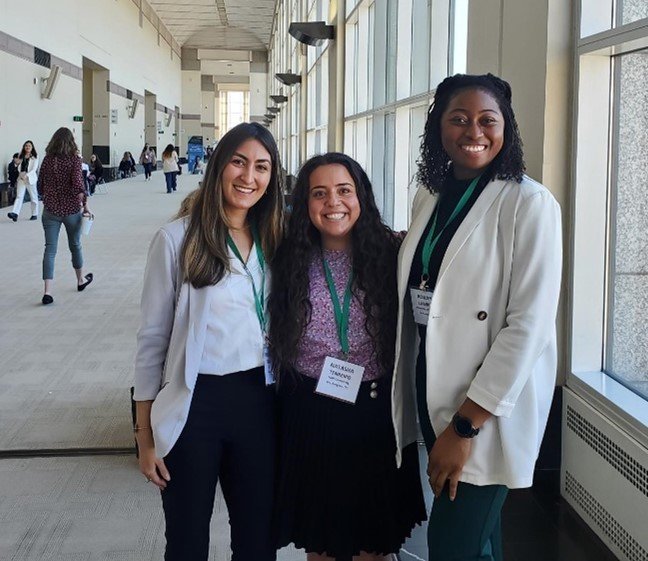 Roxanne: While setting up for my poster session, someone from Williams James College offered to help me put up my poster. She then asked me to tell her about the work that I was presenting on emotion regulation and culture. We spent 30 minutes talking about my research and she was fascinated. I later heard her explaining to her colleagues what my research was about, which lead them to come by my poster again. Another 30-minute conversation ensued. At the end, she invited me to speak at an "It's Just Lunch" (IJL) session for her college. It was great to see the work that I do be valued in such a way.
Sabrina: My favorite interaction was definitely the FMP social gathering that Candice and Natasha put together. It was so great meeting colleagues in person and for the first time, especially when they don't live in the area. The interactions, conversations, and laughter were so authentic and genuine from everyone!
Caitlin: Before joining FMP, I completed 3 different internships during the pandemic. During this year's SIOP, I was fortunate to finally meet my former coworkers from these internships in-person. In addition, I was able to meet tons of FMPers in-person too!
Sandy: I enjoyed discussing my virtual experience with fellow-FMPers after the conference. My group of FMPers all attended virtually and were able to share pros and cons about the experience and what we might do differently next time. This is something that my SIOP group will share out with the larger group.
Zoe: I really enjoyed getting to spend quality time and continue to build relationships with some of my clients. It was great to interact with them in a different type of setting and attend sessions together that were relevant to the work we do. It was also lots of fun to bump into grad school classmates and catch up.
Ian: I had a great conversation with some of the professors from my master's program during our program's social event. We reminisced about a couple of the projects that I completed while in the program and then I told them about all of the real-world experience I had gained since graduating related to those topics. After I let one of my professors know that I was using concepts he had taught me in his class at work, he asked if I would speak to his current class about it. We are still working to find a date that works, but I anticipate it taking place in the next 2-3 weeks.
What is a fun or surprising fact you learned during the conference?
James: I was surprised to learn that previous meta-analyses on the validity of various selection procedures overcorrected for range restriction, leading to inflated coefficients. Knowing this, it's important to review the re-estimated coefficients against measures of subgroup differences when creating your selection process.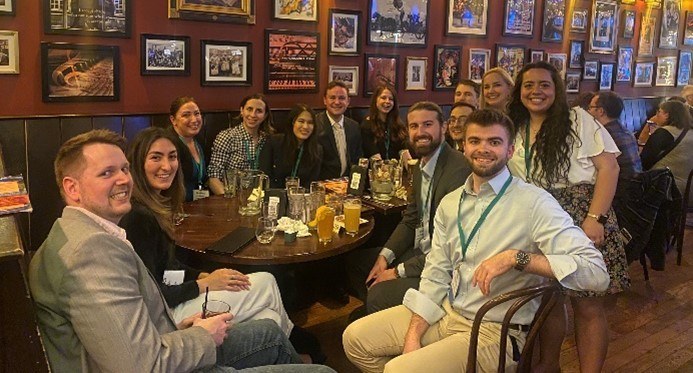 Caitlin:A fun fact I learned was that several well-known companies have independently conducted studies of their hiring process and found that 4 interviews is the ideal number of interviews to hold. There are likely caveats to this number (e.g., How many competencies are covered in each interview? How long is each interview? Do phone screens count?), but I thought it was a cool insight.
Sandy: "Only 2% of neurodiverse disclose in the workplace. Over 97% of disabilities/neurodiversity are invisible." Quote from the "Neurodiversity in the Modern Workplace: What It Is and Why It's Important" presentation.
What was your favorite session you attended and why?
Adrien: My favorite session was on using our abilities as I-O practitioners to influence organizations' triple bottom line (environmental, sustainability, and governance). We are uniquely placed to influence hiring decisions that will put people in place to further sustainability in organizations and save the planet!
Chi-Leigh: My favorite session was a panel that focused on onboarding practices. HR representatives from Perceptyx, Microsoft, LinkedIn, and Amazon discussed their approaches to onboarding and socializing new hires. This was very interesting and relevant to what I've been working on with FMP's HR team!
Summer: My favorite session was Neurodiversity in the Modern Workplace: What It Is and Why It's Important. I enjoyed this session because it was an engaging yet informative conversation about a topic that is extremely important to the progress of society but often grossly overlooked in the work environment, which perpetuates challenges from workplace injustice to burnout to disproportionate rates of unemployment. The speakers were vulnerable and created a safe space for participants to be honest about their experiences as well. I believe this necessary presentation is likely to inspire real change for many who left the session feeling validated, empowered, and well-equipped to apply practical solutions to transform their personal experience as well as their organization(s).
Natasha: My favorite session I attended at SIOP this year would have to be an IGNITE! session titled, "Menstruation, Menopause, and Mental Health: Exposing Taboos of Women's Health at Work." As a working woman myself, it is great to see research being done on such important topics and to know that progress is being made to better the workplace for all who identify as female. I really enjoyed seeing this area highlighted more and am interested to see what future research uncovers!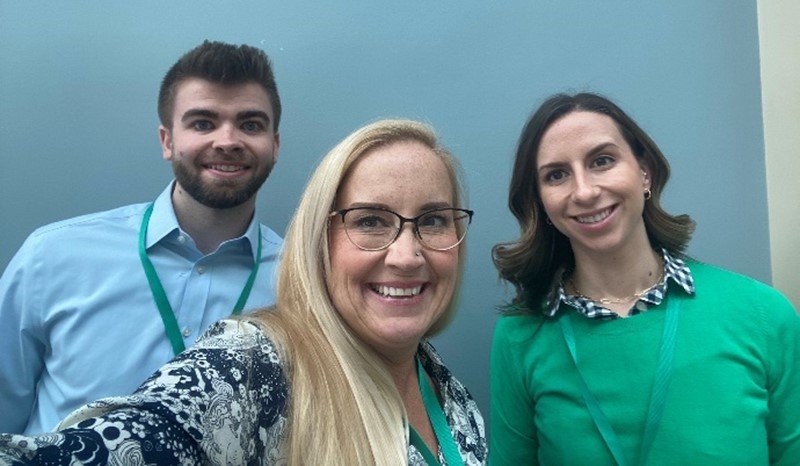 Lesley: My favorite session this year was the panel discussion I co-chaired. The session featured diversity, equity, and inclusion (DE&I) practitioners discussing the complexities of navigating DE&I work as practitioners of color. I was thrilled that SIOP provided a space for practitioners to have an open discussion about the emotional labor that often accompanies the work and allow for the sharing of advice between panelists and audience members.
Caitlin: My favorite session was on storytelling with data. The session facilitators noted that consultants shouldn't start with the data when explaining findings to leadership; instead, we should start with the call to action and then link back to the data. The session included some participants roleplaying, which was a humbling experience that showed many consultants can do more to make our data-driven insights more accessible to clients.
Risa: I enjoyed the "Bridging I and O Psychology II: A Two-way Street" Symposium. I found Austin Attaway's research on two newer measures, spatial and temporal justice, particularly interesting and relevant. Spatial justice refers to "the fairness of one's proximal access to job-related resources and facilities," and temporal justice to "the fair distribution and agency one has over their time" at work. Ensuring fairness in these areas is essential to engaging and retaining employees, especially in hybrid or remote work environments. As we're often reminded in I-O and the human capital industry, an organization's practices matter, but an employee's perceptions of those practices constitute their "reality" and are what ultimately influence their behavior. So, having more ways to measure and gauge the employee experience is exciting.
Sandy: My favorite session was "Neurodiversity in the Modern Workplace: What It Is and Why It's Important (Master Tutorial)." The presenters were engaging and shared their personal experience with neurodiversity. They discussed tools and accommodations that can improve workplace well-being for all employees including those that don't identify as neurodivergent.
Zoe: My favorite session was titled "RIP: Construct and Concepts in I-O Psychology Whose Time has Come." It was a fun and thought-provoking opportunity to hear about some popular ideas that aren't as data-supported as we may have once believed, including generational differences and learning styles.
Ian: I attended an informative session about mentoring programs and mentorships in general. The speakers were dynamic and provided clear examples of how their findings could be applied in a professional environment. They even created a free tool designed to help mentors more effectively teach and support their mentees by providing examples of actions they could perform depending on the need of the mentee.
What's a key takeaway you learned that you can apply to your work at FMP?
James: I was grateful to be reminded of the importance of storytelling with data, as opposed to showing data when presenting. A leading practice for doing this is to put together your presentation backwards by first determining what you want the audience to do—the call to action, then identifying the evidence or data that support that action, and finally building a narrative around these!
Adrien: A key takeaway for me is to begin looking towards opportunities at FMP where we can develop and implement selection systems that encourage sustainable growth and mindsets within our clients' workforces.
Summer: One key takeaway is that people are finding ways to have their cake and eat it too, with very little compromise. There is a (rightful) boom in research about the intersection of Diversity, Equity, Inclusion, and Accessibility (DEIA) and the hybrid work environment which has been an especially hot topic in recent years. With perspectives from speakers and attendees across a variety of industries, I was able to participate in discussions about the creative ways people have revamped their approach to job design, talent acquisition, onboarding, performance management, and career development processes. When you support every individual where they are, you are strengthening your whole unit. It was exciting to see so many people interested and involved in these necessary conversations, and I look forward to applying the research and experience shared to innovate at FMP and with my clients.
Chi-Leigh: At the onboarding session, the panel discussed the importance of gathering pulse-like data from employees to gauge new hires' experience and considering your comparison groups (departments, teams, etc.) when looking at data. Sometimes group differences in onboarding metrics are expected, and that is okay!
Ian: I learned that introverts face unfair biases at work and are less likely to be promoted than extroverts. Learning this has led me to examine my relationships with my team members to ensure that I am cultivating an inclusive team environment and it served as a good reminder of the importance of understanding colleagues' working styles.
What are you looking forward to at next year's SIOP conference?
Roxanne: Last year I was a candidate looking for a job at SIOP. I met some amazing FMPers who sold me on FMP's culture. This year at SIOP, I was on the other end, sharing FMP's culture with candidates and watching them be amazed and drawn to FMP as I was (and still am). Next year at SIOP, I look forward to bragging some more about FMP's culture as I continue to develop an eye for recruiting talented workers who can enhance the service and expertise that FMP provides.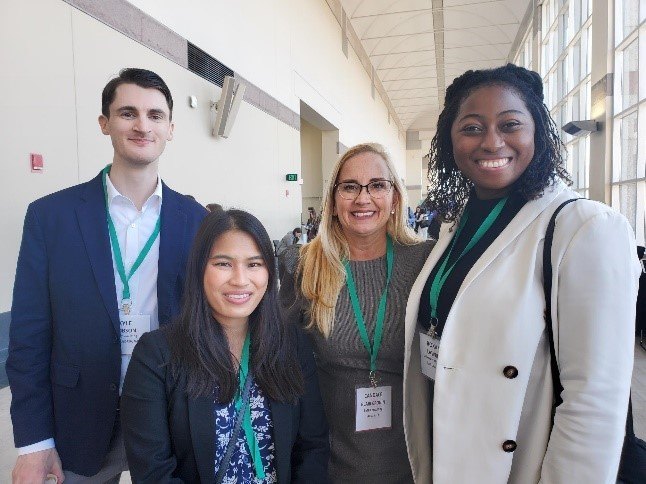 Sabrina: I wasn't really sure what to expect with this conference since it was my first time attending, so I'm really looking forward to future ones as I'll now know how to better plan my agenda to include not only the sessions but also the great networking opportunities that come along with them. Being in an environment with others that have very similar passions and interests as I do creates so much room for growing connections and gaining different perspectives.
Lesley: I started going to SIOP as a graduate student over two decades ago. The conference is a great opportunity to see and hear what others are doing in the field. For me, it's the people that keep me going back. Each SIOP provides a chance for me to reconnect with my former professors, colleagues, and clients.
Risa: I'm looking forward to (hopefully) attending the SIOP conference in person next year. Nothing beats a virtual conference in terms of convenience. Attending virtually was significantly less expensive, I could switch between presentations seamlessly, and I didn't have to coordinate travel or pet care. Still, there are aspects of the in-person experience that no online platform can replicate, like reuniting with your grad school cohort and taking a break from your typical working environment. Not to mention, there were several intriguing sessions that were only offered in person (if that's not FOMO-inducing, I don't know what is). I hope to experience all of the wonders of SIOP next year!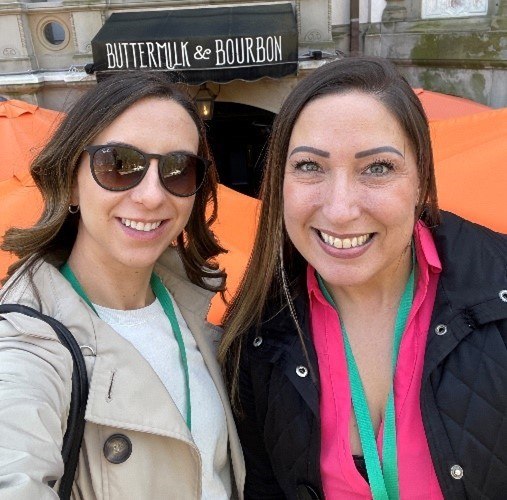 Zoe: Now that I have one SIOP conference under my belt, I'm excited to continue the annual tradition. Attending the 2023 conference reminded me how much I enjoy spending time in academic settings and conversations, so I'm looking forward to having those experiences more frequently and continuing to have a finger on the I-O pulse.
Ian: I'm looking forward to catching up with the people I met at this year's conference, colleagues from my graduate program and previous company, and clients who will be in attendance. I'm also looking forward to the presentations and learning about new trends in our field and how findings can be applied to improve working conditions.
As you can see, SIOP 2023 was a huge success! What was your favorite part of SIOP? Please share something you learned or most enjoyed about SIOP to keep the conversation going!
---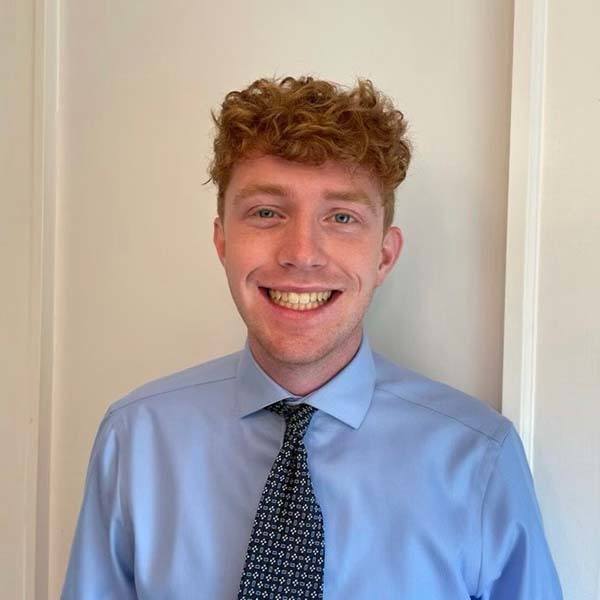 Jacob Deaton has been with FMP for over a year as the Business Development Analyst on the GO Team. He is located in Arlington, Virginia. In his free time, he enjoys producing music, playing golf, and participating in DC sports leagues!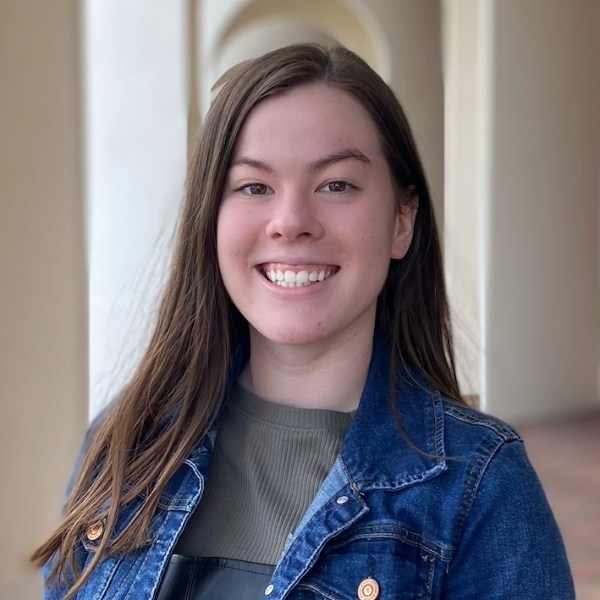 Zoe Nerantzis joined FMP as a Consultant in May 2021 and works with the National Science Foundation team by supporting NSF's learning and development branch. Zoe is from Rockville, Maryland and can generally be found reading fantasy novels, working out in her basement, or rooting for the Washington Football team.