Cultivating Culture: 3 Tips for Managing a Successful Remote Workforce
May 31, 2019 in Culture
By Jessica McCrerey
Over the past month, we have explored the truism 'when in Rome…' by examining critical aspects of organizational culture. As discussed in a previous post, "Recognizing and Adapting to Organizational Culture," the culture of any organization is impacted by a set of intentional actions, as well as unintentional norms and behaviors of its employees. As one of our consultants put it, an effective culture is constantly evolving– it is refined and reinforced through every aspect of an organization's operations and services, ultimately ingrained in the way business is done.
Recognizing the importance of creating a corporate culture and its positive impact on employees (i.e., a happier, more engaged, more productive workforce), companies tend to put a lot of time and effort into defining the key elements of their culture, which are often then reflected in their core values and mission. Once an organizational culture is established, how do you maintain and cultivate it? How do you ensure it comes to life and is reflected in your employees' actions and behaviors, especially when they are not physically present in the office but rather teleworking or working remotely?
It is no secret that teleworking and remote work arrangements are increasing in popularity and utility. This trend is likely to become even more prevalent within the coming years. Despite some larger well-known companies – Aetna, IBM, Yahoo– making the shift away from telework and remote employment to preserve critical elements of their organizational culture (e.g., creativity, innovation, collaboration), we are continuing to see more and more organizations establish these types of practices and expand existing programs. For example, we recently started supporting one of our clients in the implementation of a pilot remote employment program, which would allow employees to telework full-time.
So, if your organization provides employees with these flexibilities – telework, remote work arrangements – how do you preserve your company culture and ensure it is instilled in the workforce, even when employees are not physically in the office?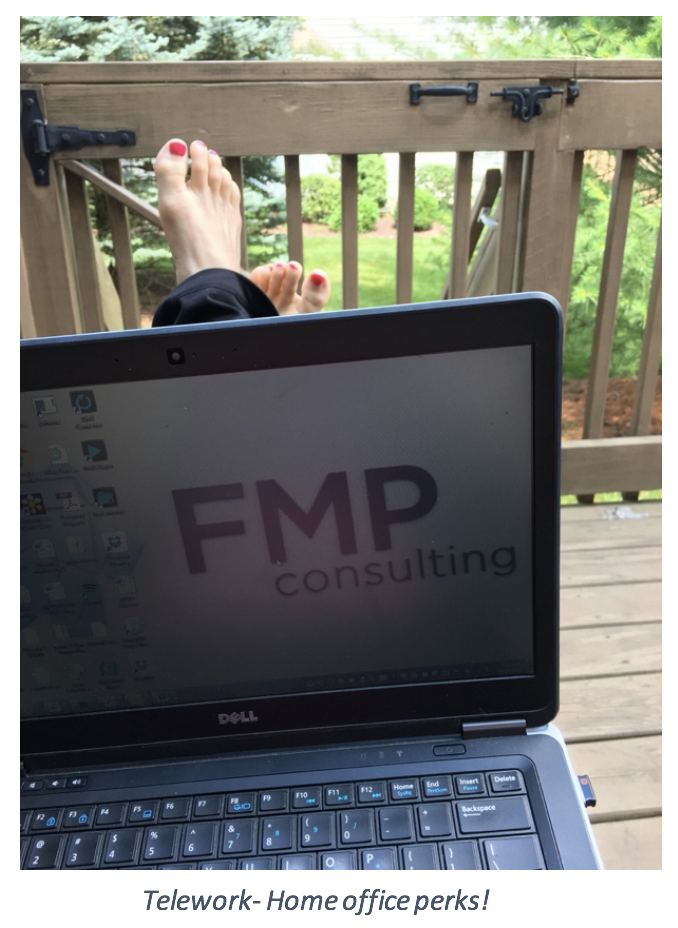 Here at FMP, we really value accountability, transparency, and work-life balance, giving our employees the flexibility to telework as they see fit. We also have a handful of employees who work remotely in other parts of the country, outside of the D.C. Metro Area. These team members telework 100% of the time. In addition to offering these flexibilities, we are very proud of our company's culture. We have worked tirelessly to define it, reinforce it, and maintain it among our staff, regardless of where our employees work, whether that be in the office, at home, or at a coffee shop.
Over the years, we have found three keys to our success:
Keep Organizational Culture and Values in Mind During the Hiring and Onboarding Process– ensuring perspective team members and new hires fit within our defined culture is critical. An important component of FMP's assessment and selection process focuses on cultural fit. Every candidate is asked a standard set of fit-oriented questions in order to gauge fit within our organization, as well as their ability to demonstrate our core values and keep our culture alive. In addition, aspects of our culture are woven throughout our entire onboarding process, talked about in our post, "Collaborative Networks – It All Starts with an Effective Onboarding Program," new hires are introduced to our culture through our 'Buddy Program', one-on-one interviews with team members across levels and technical competencies, as well as meet and greets with senior leadership.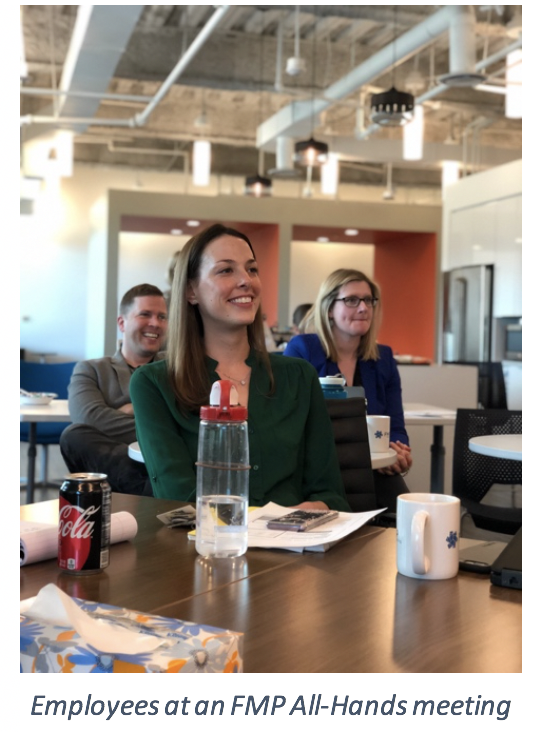 Encourage an Environment of Constant and Open Communications–setting expectations for communications and providing centralized channels that support and foster our organizational culture have enabled an effective flow of information between employees regardless of their physical location. Giving employees access to a consistent suite of communications tools is a priority at FMP. We recently mitigated to the Office 365 collaboration portal, providing staff with a suite of applications for enhanced team communications, making it easy for all employees to participate. Employees are able to conduct meetings using video conferencing, share project files, collaborate on deliverables in real-time, and send quick informal messages via chat.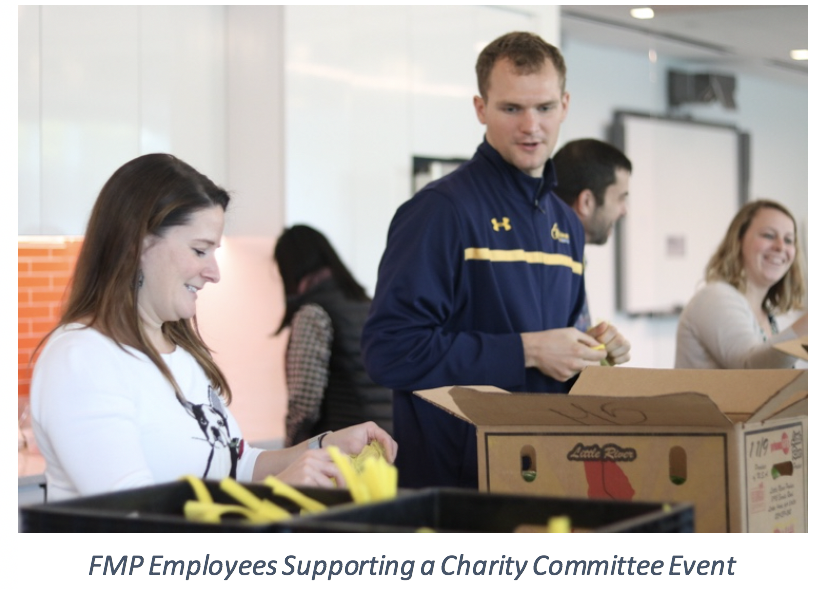 Dedicate Time to Company-wide In-person Events and Gatherings –carving out time to bring all FMPers together in the same place is something we strive to do on a consistent basis. Creating intentional opportunities to connect outside the hustle and bustle of project work enables our employees to build relationships, connect with others they don't typically interact with, and ultimately maintain our organizational culture. We bring the entire company together on a quarterly basis for All-Hands Meetings, as well as a couple times a year for social events like our Summer Picnic and Winter Holiday Party.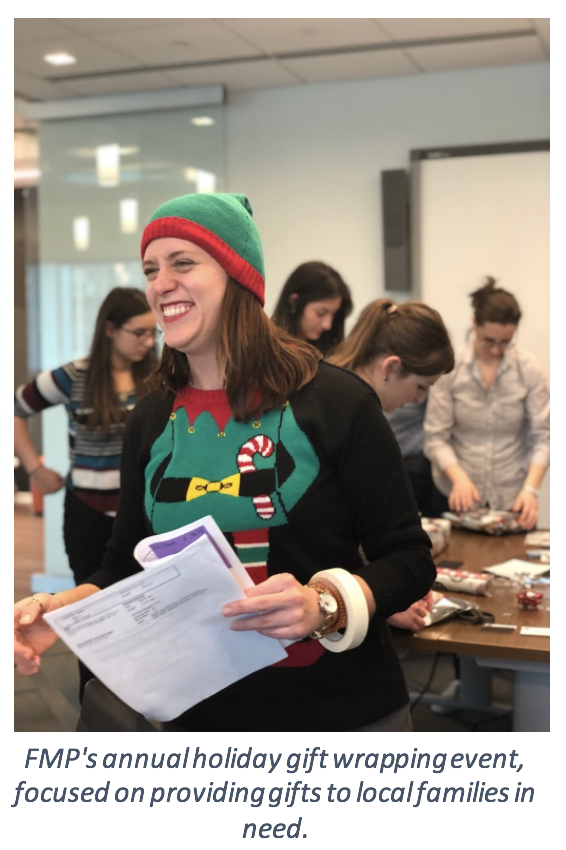 Bottom line, it seems like telework and remote work arrangements are here to stay. As these practices continue to increase in popularity and utility, it will continue to be essential for organizations, leaders, and managers to identify ways for building, maintaining, and fostering their organizational culture with all employees, especially when they are not physically present in the office.
Interested in learning more about how FMP can help you build and maintain your organizational culture with a teleworking and remote workforce? Contact us to start the conversation today!