Five Tips for New eLearning Developers
A few months ago, I hung up the phone with a client and found myself staring at my computer screen wondering how exactly I was going to approach my client's request (a familiar feeling to many consultants!) My client was looking for support developing instructor-led training (ILT), but after hearing how other offices in her organization were creating web-based trainings (WBTs), she decided to get on board with the WBT format and ask for trainings to be offered via that platform. I was excited to take this route, as more and more organizations are moving towards WBTs because of the many benefits they offer. Those benefits include:
The capability to reach a wide geographical audience
The ability for learners to move at their own pace
Reduced costs after development since instructors are not needed physically to teach the course
Being new to developing eLearning products like WBTs, I knew there were many things I needed to learn and consider before getting started. For those of you interested in creating or offering WBTs, here are five things I learned that will help make your entry into the world of web-based training a success!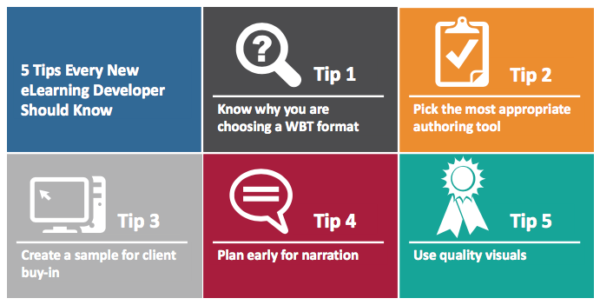 1. Know why you're choosing a web-based format
Web-based training can seem innovative and fun. It's a new way to train and engage your employees. However, it is important to know why you're choosing to put your training in such a format because not all training is suitable for WBTs. WBTs are a great option when:
Content is stable and unlikely to change on a frequent basis. For example, you don't want to develop a WBT which covers processes and procedures that change every year.
There is a large amount of content to be delivered to a significant number of learners
Learners come from geographically dispersed locations
Learners have at least basic computer and internet skills
2. Pick the most appropriate authoring tool
There are many different authoring tools you can use to create WBTs. Many of them do similar things and can provide comparable experiences for users. You should consider the following factors when deciding which authoring tool is right for you:
Capabilities – Does the tool have branching and other non-linear functionality mechanisms for knowledge checks, quizzes, and scoring?
Ease of feedback – Does the tool have a built-in reviewing mechanism that allows others to easily review content and make comments?
Ease of integration – Expanding on the above suggestion, is the program compatible with your organization's/client's learning management system (LMS)? Is the program able to report on different learner analytics, such as device used, time spent per session, etc.?
3. Create a sample for client buy-in
When pitching your idea for web-based training to your client or other stakeholders in the organization, avoid talking in the abstract about the way the course will look. Instead, provide a sample built in your authoring tool to help them visualize the final product. You don't need to dedicate tons of time to this, but it will go a long way toward helping your client or other stakeholders get a better sense of the overall feel of the course. Consider putting together a general color scheme, the user navigation, a template you intend to carry throughout the materials, and examples of the interactivity you want to incorporate. This can help you gain buy-in up front, so there are no surprises or need for major modifications once development is underway.
4. Plan early for narration
Although WBTs eliminate your need for an in-person facilitator, you should think about the audio associated with your course. There are numerous high-quality platforms where you can outsource audio recordings, or you can record voiceover using your own audio equipment. Consider the cost and quality of your options to pick what's best for your particular course, client, and timeline.
5. Use quality visuals
The way your course looks will heavily impact your learners' experience. Select high-quality visuals that align with the overall tone and feel of the information you are presenting as well as the organization as a whole. Always consider how the visual elements you use increase the effectiveness of your content by adding clarity or summarizing information in an intuitive way. There are a number of online resources where you can find stock photos and icons, or you may have graphic designers on hand (or be one yourself!) who can help produce effective visuals for your course.
Whether you're working on a short refresher training or a full web-based learning program, keeping these tips in mind can get you started on the right foot as you begin to incorporate web-based training into your curricula and learning experiences. Interested in learning more? Contact us to chat with a member of FMP's dedicated Center of Excellence for Learning & Development!