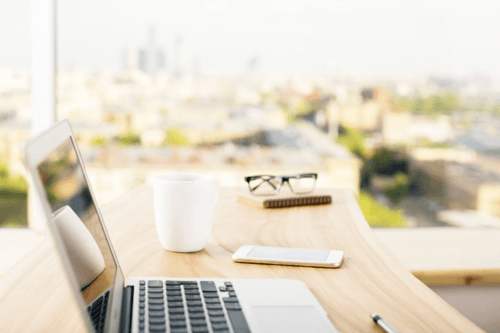 While at a conference panel discussion on Millennials in the workplace, one speaker commented that future generations will be shocked to learn of an antiquated era when people were *gasp* required to do their jobs in a co-located brick-and-mortar world. While it may take a few generations to get to a point of 100% virtual employment (if ever), our world is quickly getting smaller and smaller as emails and videoconferencing make remote work more practical and desirable by the day.
To that point, after three years of working in FMP's home office in Northern Virginia, I moved to New Jersey for personal reasons and was able to transition to a remote employee. My time out of the office has just surpassed my time spent in the office. Along the way, I've learned a lot about myself and self-control and hope my experiences can help others be successful working remotely.
Before I share some of the lessons I've learned, here's some background to frame this conversation. According to Gallup's 2017 State of the American Workplace report, 43% of Americans said they spent at least some time working remotely in 2016, up from 39% in 2012. A separate study conducted by AfterCollege found 68% of millennial job-seekers indicated that an option to work remotely would greatly increase their interest in specific employers. As we navigate this evolution of the modern day workplace, employers find themselves searching for a way to maintain high-quality performance and meet employees' desire for flexible work arrangements.
So, with that context, here are a few tips based on my experience about how to make remote work arrangements work for you.
Environment
If you only take away one thing from our time together, please let it be this. The key to being a successful remote employee is creating a dedicated office space. Your home office should be equipped with all of the necessary tools of your trade – think computer, reliable printer and scanner, phone (my FMP extension forwards to a land-line), whiteboard, and plenty of pens, paper, highlighters, and note-pads depending on your personal note-taking preferences. If at all possible, your dedicated office space should separate you from the rest of the house. This serves two purposes. First, you're a lot less likely to get distracted by that pile of laundry or those lingering holiday decorations. Second, when you're done for the day, you can physically and mentally "leave the office." This helps foster work-life balance, which can be difficult when you're only ever a flight of stairs away from being back online.
Communication
When you aren't physically in the office, you may miss out on that direction-changing discussion that took place after you dropped off the conference line. The fix? Be proactive and use the best communication channel for the situation at hand. Some easy ways to be proactive include scheduling a team debrief for the 15 minutes after your client call ends or simply reminding colleagues to add a phone line or videoconferencing capability to the meeting invite that only listed a physical location. And, make sure to select a communication channel based on what you need to accomplish. If you would have dropped by a coworker's office to ask a quick question, then pick up the phone and call him/her rather than send an email. If you need to review that 120-page report with your team, then use screen-sharing to be sure you're all looking at the same paragraph at the same time. Lastly, remember that in-person interactions are still the highest quality form of communication out there; so, as circumstances allow, try to attend important events such as performance reviews, project kick-off meetings, and annual holiday parties or other social events in-person for some quality face-time. What if your office isn't tech-savvy? When it comes to video and teleconferencing tools, there are many free and inexpensive options out there to get you started.
Structure
Structure is another important element of effective remote work. In an office, norms (and company policies) dictate that you're appropriately dressed and present for the duration of the work day. When you work from home, it's important to create and reinforce this structure for yourself. You wouldn't respond to emails while sitting in your client's office for a meeting and you wouldn't show up to the office in your pajamas. So, when you're working from home, model the same behaviors you would in the office – close Outlook during meetings and be dressed appropriately because someone could video-conference you at a moment's notice. Similarly, while you may enjoy the vibe of your local coffee shop, your colleagues may not enjoy trying to hear you over the sound of that shouting barista. You created that dedicated office space for a reason, use it! But, if you simply must indulge in the occasional change of scenery, do so on a day where you don't have meetings and be sure that free wi-fi they offer is actually reliable.
Sanity & Other Lessons Learned
In addition to these tips, I've also learned a few unexpected lessons along the way. It's probably no surprise that working remotely can get a bit lonely, especially for a card-carrying extrovert like myself. What I found surprising is that simply exiting the house at least once a day can do wonders for your sanity! Checking the mailbox or eating your snack on the porch can be a great 5-minute mental break to stave off cabin fever. And on a slightly larger scale, I suggest finding a hobby or planning activities that get you interacting with others (out of the house and in-the-flesh) at least a few times a week. Hitting the gym. Dinner with a friend. You get the idea.
Other lessons learned from living the #remotelife you may not have expected include:
Feeding Frenzy – the entire kitchen is now at your disposal, 24/7. To protect your waistline and your productivity, plan out your lunch and snacks so you can quickly (and healthily) fuel up and get back to business.
Loss of Steps – when you aren't zipping back and forth between your desk, colleagues' desks, and conference rooms, that 10k-step-a-day goal can be hard to hit. Try a standing desk or walking around your home office during calls to keep your pedometer from getting dusty.
Tax Exemptions – you may be able to file a deduction for costs associated with setting up and maintaining your home office. Check with an expert before filing your taxes this year!
Whether you're a full-time remote employee or only teleworking one day a week, these tips can help you continue to be effective at work, no matter where your office is! If you're interested in learning more about FMP's capabilities and services in this area, please contact BD@fmpconsulting.com
About the Author: Meet FMPer, Jenna! After three years at FMP, she moved to New Jersey. When she's not watching NY/NJ sports or taking in a Broadway show with her husband, she can be found singing show tunes between calls in her home office or helping her fellow FMPers facilitate virtual meetings and trainings.