Pride began as a riot.
During most of the 20th century, it was common practice in the US, and across the world, for police to raid bars and restaurants where queer individuals would gather, using excessive force to drag patrons out of the bar, humiliating them, and even reporting them to their family and workplaces[i].
On June 28th, 1969, the New York Police Department raided the Stonewall Inn, a bar in the Greenwich Village neighborhood of Manhattan on Christopher Street, using brutal tactics that ignited a six-day long protest outside the bar and throughout the neighborhood led by trans women of color. The Gay Rights movement started gaining national attention[ii].
One year following the protests, activists in NYC (3,000 to 5,000 participants) marched through the streets of Manhattan to commemorate the uprising in what is now referred to as the nation's first Gay Pride Parade. Marches and parades also took place that June in Chicago, Los Angeles, and San Francisco.
June soon became the unofficial month to celebrate Pride until President Bill Clinton officially designated June as Gay and Lesbian pride month in June of 2000, which then changed again to Lesbian, Gay, Bisexual, and Transgender Pride Month in 2009 under President Barack Obama.
As awareness and support for the community has grown, so has the language. You have probably come across the acronym LGBTQIA+. Each letter stands for a different identity or sexual orientation. L for lesbian, g for gay, b for bisexual, t for transgender, q for questioning, i for intersex, a for asexual, and + for the many other identities within the queer community. You can read more on inclusive language here.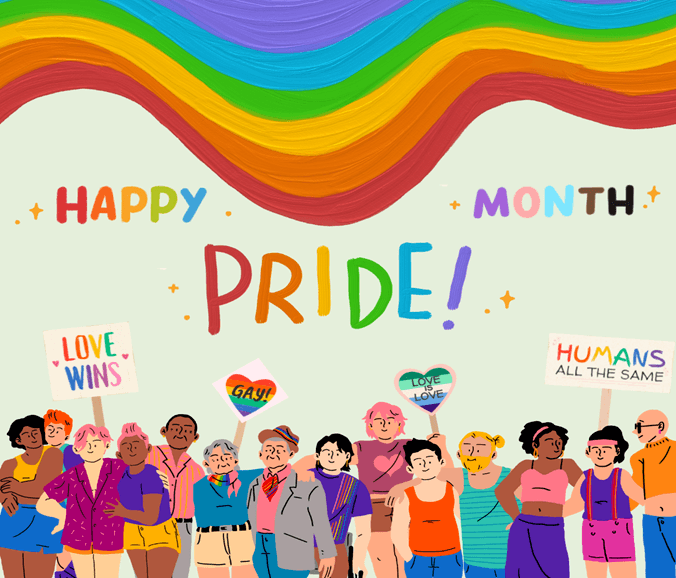 You may notice the rainbow flag at most Pride events. The origin of the Pride flag dates back to 1978, when LGBTQIA+ activist Harvey Milk asked artist Gilbert Baker to create a symbol for Pride. Baker once said in an interview, "Our job as gay people was to come out, to be visible, to live in the truth, as I say, to get out of the lie. A flag really fit that mission, because that's a way of proclaiming your visibility or saying, 'This is who I am!'" Baker goes on to say that he saw the rainbow as a "natural flag from the sky".
The original pride flag consisted of eight colored stripes, each with a unique meaning: pink for sex, red for life, orange for healing, yellow for sunlight, green for nature, turquoise for art, indigo for harmony, and violet for spirit[iii]. The current pride flag, often referred to as the New Progressive Pride flag, includes the addition of light blue, light pink, black, brown, and yellow with a purple circle to represent people of color, as well as people who are transgender, intersex, or non-binary.
The atmosphere of Pride events can range from lively celebrations of LGBTQIA+ joy to strident political protests to solemn memorials for those lost to AIDS or homophobic and/or transphobic violence.
Pride is also a time to reflect on the amazing activist work that has been accomplished throughout the year. A notable recent example being in 2020, when the Supreme Court issued its decision in the case Bostock v. Clayton County, which held that the prohibition against sex discrimination in Title VII of the Civil Rights Act of 1964 (Title VII) includes employment discrimination against an individual on the basis of sexual orientation or transgender status[iv].
In many ways Pride today is still a riot here in the US and across the globe where LGBTQIA+ folk still face violence and discrimination. During Pride month, some organizations participate in "rainbow capitalism" where they profit off of the struggles of the LGBTQIA+ community and then go on to make donations to politicians who vote against gay, lesbian, and transgender rights. In places like Serbia, Turkey and Russia, Pride is seen as a vital protest against repression and isolation, and parades are often met with antigay violence. Even in the US, there is a spike in violence against the LGBTQIA+ community during Pride, especially with current legislation in Florida with their "Don't Say Gay" bill and Drag bans in Tennessee. These are just a handful of examples of the struggles the LGBTQIA+ community faces daily in the US and abroad.
That is why Pride is important. Not just to celebrate all the joy and talent in the queer community, but also as a reminder that we still need advocacy and activism. Whether you're a member of the community or an empowered ally, please consider checking out the following organizations who are mobilized to provide resources that protect LGBTQIA+ individuals: The Trevor Project, SAGE, Transgender Law Center, and more.
Despite the consistent challenges, LGBTQIA+ folk and their allies continue to be resilient, to spread joy and hope in the month of June, coming together as a community of found family and peace.
What to learn more? Click on the links below!
50+ Resources For LGBTQIA Allies
Anti-LGBTQIA+ Legislation in 2023
---
[i] Kaufman, D. (2020, June 16). How the pride march made history. The New York Times. https://www.nytimes.com/2020/06/16/us/gay-lgbt-pride-march-history.html
[ii] History.com Editors. (n.d.). Pride month 2023: Origins, parades & dates. History.com. https://www.history.com/topics/gay-rights/pride-month
[iii] Encyclopædia Britannica, inc. (n.d.). How did the rainbow flag become a symbol of LGBTQ pride?. Encyclopædia Britannica. https://www.britannica.com/story/how-did-the-rainbow-flag-become-a-symbol-of-lgbt-pride
[iv] Protections against employment discrimination based on sexual orientation or gender identity. US EEOC. (n.d.). https://www.eeoc.gov/laws/guidance/protections-against-employment-discrimination-based-sexual-orientation-or-gender
---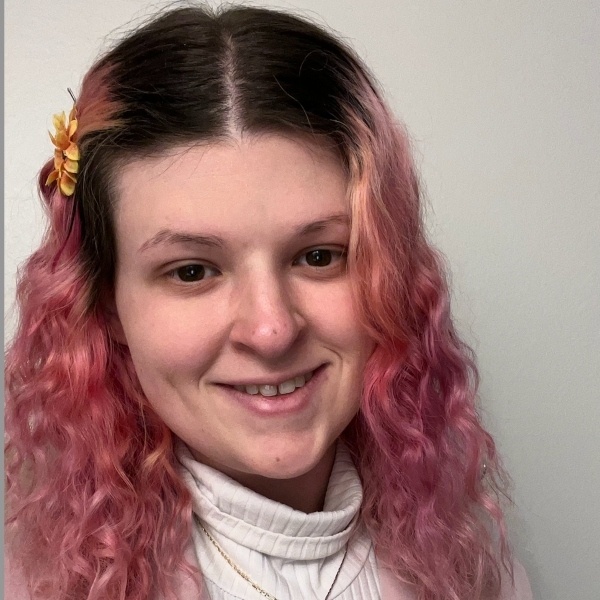 Julie joined FMP in May 2023 as a Human Capital Intern and works on a variety of projects ranging from competency modeling, DEIA training and implementation and transition planning. She is a current graduate student at George Mason University studying IO psychology and is originally from the Adirondack mountain region in New York. Julie is passionate about cooking, travel and is a loving cat mom to her kitten Winter.