SIOP 2019: Emerging Trends to Track
April 18, 2019 in General
By Jessica Dzieweczynski, Will Haller, Paul Bresnan, Rob Calderon, Christine Gundermann

Many of our FMP team recently attended the Society for Industrial and Organizational Psychology (SIOP)2019 National Conference near Washington, DC and brought back some helpful information to share! This annual conferenceis focused on topics relevant to the field of I/O Psychology and provides opportunities for networking, career searching, and a robust program of presentations, panels, and workshops. As we did last year after this conference, we wanted to share some highlights that grabbed our team's attention. These noteworthy take-aways reflect the trends and discussions that will no doubt influence human capital management practices in the coming years.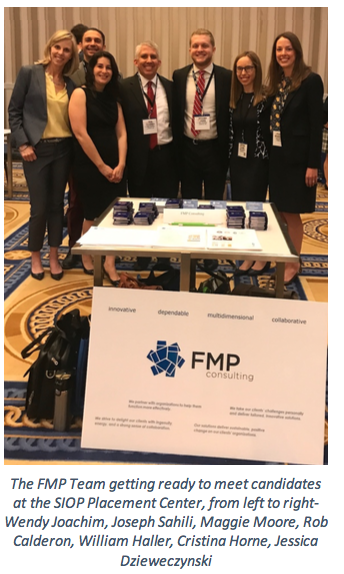 Predictive Analytics Through Artificial Intelligence and Machine Learning: Since 2014, SIOP has surveyed its members on an annual basis to gauge top trends in the field. For 2019, the #1 trend was artificial intelligence (AI) and machine learning (ML). Organizations are increasingly using these techniques to harness the power of "big data" – defined as data that has a high degree of volume, velocity, variety, and/or veracity. Many sessions at this year's conference focused on applications of AI and ML, including how to get the most out of predictive analytics by using these sophisticated techniques. For example, one organization shared how they apply machine learning algorithms to their organization's engagement and 360 feedback data to model and predict turnover across their organization. Another organization shared how they use artificial intelligence to screen thousands of job applications every month by comparing the similarity of language in the resume to language in the job description, with outcomes being similar to those achieved through human screening. We live in an increasingly data-rich world, and AI and ML show huge promise in helping to make sense of and best utilize this vast amount of information. – Jessica Dzieweczynski
The ROI of R: R was expertly demonstrated to show immense value with regard to deep learning, automation, and advanced data collection and analysis. Web scraping, or collecting specific data from sites using APIs (application program interface) to gather key data for research and intervention purposes, has proven to be an invaluable tool for various I/O applications. For example, presenters scraped O*NET (Occupational Information Network) job family data in order to generate competency models, or scraped data from Glassdoor to gather position description data or organization review data. Additionally, R can be used for natural language processing (NLP) in order to analyze text (e.g., work sample, interview speech-to-text), and once the model is validated with SMEs, NLP programs were shown to have achieved above 85% accuracy in emulating expert interviewers within certain career industries.- Will Haller
Cybersecurity and I/O: Cybercrimes are on the rise, unemployment in the cybersecurity field is at 0%, the need for proficient cyber professionals will increase over the years, and today's bleeding-edge technology will be obsolete in 18 months. This creates unique challenges for practitioners tasked to serve this unique skillset. There is a need to identify, cultivate, manage, retain, and develop individuals with these critical skillsets. It is difficult to assess how many cybersecurity attacks were prevented, but when an attack is successful, it may or may not be noticed right away. This creates interesting challenges in workload and staffing models. Lastly, I/Os have the skillset to survey the workforce to identify who in the workforce is likely to cause a cyber incident (e.g. conscientiousness, counterproductive workplace behavior, and other constructs). Lastly, there is a dearth of research to assist in how to manage talent in the cyber domain as well as how to position workforce to harden cyber systems. – Paul Bresnan
Panel of CHROs who are I/Os: This panel of Chief Human Resource Officers (CHROs), all I/Os, focused on the issues and needs that shape their days and strategic priorities. First and foremost to this discussion, they shared their pressing need to get things done faster – reflecting the reality of their environment. They also discussed the need to continue to gather data to back decisions and the ongoing importance of showing impact. They also reflected on the continual tension between appreciating the rigor that underlies the I/Os field, balanced against practicality and the driving desire to get things implemented. They stressed that rigor is critical to ensuring that tools and processes work more of the time, but also reiterated the idea that keeping an open mind is important and that there are other solutions (beyond I/O) that work. They also emphasized the need to respect privacy (individual and organizational), despite the well-intentioned desire to share information in an effort to improve. Finally, they also offered valuable advice to I/Os looking to work directly with or best support HR Departments – suggesting that they work as a partner and look to build long-term, lasting relationships. This advice, they believe, will lead to CHROs trusting what I/Os bring. – Rob Calderon
Don't Mind the Gap…Work to Close It: Executives and HR leadership can easily become seduced by new or interesting HR trends or practices, often seen in HBR or other popular magazines…many of which do not have I/Os on writing staff. Some of these trends and practices are unsupported by research/do not have rigor (e.g., Growth Mindset in education). In some cases, research even demonstrates these practices are not effective or could be potentially harmful. Having a specialized skillset (e.g., being able to understand research) as I/Os, it is our duty and responsibility to "push back" when organizations are wooed by ineffective or unsupported practices. This often involves having courage to do the right thing, even when the result or reaction might be negative. Finally, greater gains should be made to bring together science and practice (e.g., regular lunch and learns between practitioners and academics, academics completing more metanalytic studies to summarize research on trends, practitioners reviewing metanalytic studies more regularly) for the betterment of everyone in the I/O field, practitioner and academic alike. – Christine Gundermann
In addition to these take-aways, quite a few FMPers (past and present) participated in panels and sessions. Here are a few highlights-
Excel Can Do That? Maximizing I-O Projects Through Excel(IGNITE! Panel) FMP Presenters: Jessica Dzieweczynski-Co Chair, Christine Gundermann-Co Chair, Stephen Tyler, William Haller; Other Presenters: Chris Bordeaux (CBP), Hanna Pillion (CBP), Pat Curtin (NSF), Brian Tate (GDIT).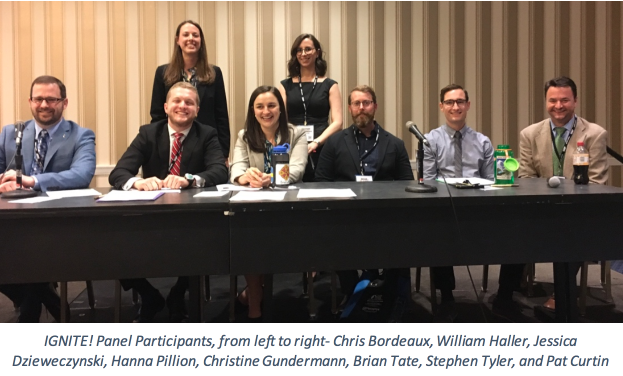 Although increasingly sophisticated data analytic tools abound, Excel remains a ubiquitous and accessible tool for many. This IGNITE! panel highlighted innovative applications of Excel that have maximized the impact of I-O projects. Panelists presented real-world tools that apply advanced Excel functionality to a range of I-O topics such as workforce planning, selection, and employee engagement.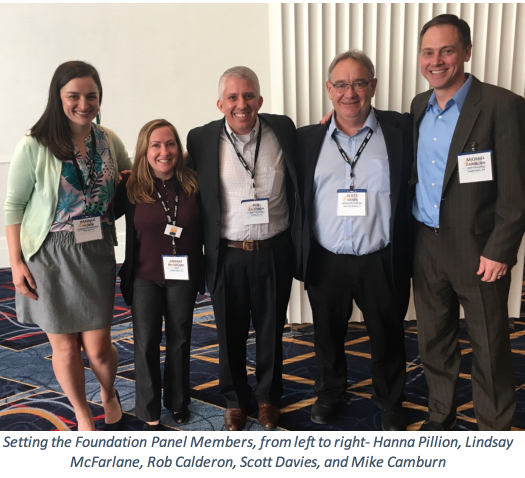 Setting the Foundation: Leveraging Competencies Across Human Capital Functions(Panel Discussion) FMP Presenters: Rob Calderon, Mike Camburn; Other presenters: Hanna Pillion (CBP), Scott Davies (PointLeader), and Lindsay McFarlane (FEMA).
Far too often competency modeling efforts are approached in a disjointed, rather than programmatic, manner. The purpose of this panel was to discuss developing competency models to shape and align entire human capital programs. Panelists discussed the benefits, challenges, and best practices of implementing competency modeling efforts across multiple human capital functions.
Last, but not least, we wanted to recognize another FMPer, Maggie Moore, who was honored with the 2019 George Mason University IO MA Alumni Award!