Staying Organized for Your Mental Health Part I: Let's Get Physical
We are now weeks into year three of the pandemic. Some of us are making our way back to the office, but many of us are still spending our days in our makeshift home workspaces. Even if we've grown used to navigating our new day-to-day routines, the physical and mental lines that separate work and life have been significantly blurred by the havoc COVID-19 has wreaked on our habits and patterns. That said, there are improvements we can all make as we continue along our transition into the new age of remote work and getting, and staying, organized are key amongst them.
By now, we have all learned some techniques that work (and definitely some that don't) while trying to stay focused and productive at home. Some of my experiments have included using a standing desk, productivity apps, and even taking walks between virtual meetings. We have also learned that we are not alone in feeling the effects of the pandemic on our work. Working from home during COVID has resulted in increased rates of burnout, lack of focus, and decreased motivation. According to a survey conducted by Indeed, "more than half (52%) of survey respondents are feeling burnt out, and more than two-thirds (67%) believe the feeling has worsened over the course of the pandemic" (Threlkeld, K. , 2021). While it is absolutely valid to have these feelings, it's important to focus on what we do have control over during this time.
One thing most of us can control today is our work from home environment, which is especially important since this is where we have been spending most of our time. Having a clean space can have many positive effects on your mental health, including providing you with a "sense of control over your environment" as well as giving you a repetitive task that occupies and calms your mind (Gordon, S., 2021). As we continue working from home, it's critical to our mental health to find comfort and organization in our spaces. Even if you work from home and have not experienced these common pandemic feelings, getting organized and tidying up your space can help you achieve, or maintain, a productive mindset after other types of distractions.
Whether you work from the dining room table or a designated office space, keeping your workspace tidy can make it easier to keep your thoughts focused and minimize stress and anxiety. "Often a cluttered or messy area can be seen as "unfinished business" and can add unnecessary stress" (Ghaffari, N., 2021). Studies have also shown that clutter around your space can make it significantly more difficult for you to focus on a specific task, especially if you can see the clutter while you are trying to work (Ghaffari, N., 2021). Decluttering and staying organized this year can likely improve your ability to focus and are also strongly linked with decreased levels of stress and anxiety and can lead to feelings of satisfaction and positive energy that can help your productivity (Gordon, S., 2021).
For some people, the process of cleaning out your physical and digital workspaces can be a bit daunting, especially if you are already feeling unmotivated and burnt out. In this two-part series, I'll share some tips on how to start organizing, and strategies to make it stick! Below, I'll walk through some ways to keep your physical space clear of clutter, so you can start your days clear-minded and comfortable.
Refresh and Rearrange
First, take everything off your desk…and I mean everything: keyboards, mousepads, pens, monitors, and give everything a good wipe down.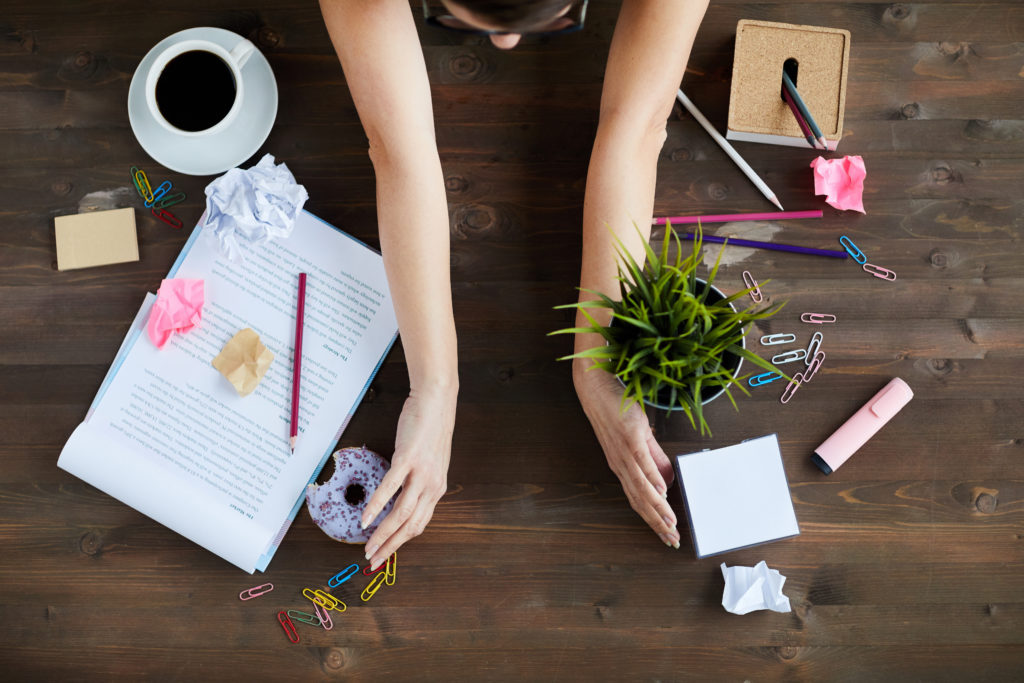 Once everything is wiped off, pick your desk items up one at a time and think about the last time you used them before returning it to your desk. If things have not been used in the past few weeks or months, consider moving it to another room or space. This will help you see what you don't use or need taking up space on your desk on a daily basis.
Next, go through each piece of paper you had on your desk and make piles for different categories like shred, scan, or file. Shred all those papers and sticky notes that are creating clutter on your desk as soon as possible. If you want to keep paperwork or file according to project, I recommend getting a desk folder organizer to keep your papers tidy. This will help create an easily sustainable filing system (for example, something like this on Amazon). Your office supplies should be "treat yourself" items since you will use them frequently and let's face it…during this time it really is the little things that can make us happy. So, if you want fun file folders, you get them! Try something visually pleasing and functional (like this set of folders), to increase the odds that you will use them more often.
If you have been accumulating papers and notebooks at home like myself, consider trying a new reusable notebook (like this Rocketbook) to save some trees and scanning time. If you do want to keep the classic pen and paper system going, consider getting a nice, thick spiral notebook with different sections for each project to avoid loose paper, and a new pack of pens and a pen cup to keep them close by. I personally like to keep a variety of different colored pens (like these) and use a different color for each project when I jot down notes.
While you are reassembling your desk after wiping everything down and making appropriate piles, think about your productivity based on the location of this space. Are you able to see dirty dishes or kids playing with toys? Would the lighting by the window keep you feeling more awake? Think about moving your desk or workspace to another part of your home, as a change of scenery can be refreshing for your brain. Make sure that wherever you decide to keep your workspace, try to position yourself in a way that is "clear of visual distractions" (Goldberg, A., 2021.).
When you put your most-used items back on your desk, make sure you are re-assembling them in a way that makes you happy. If you find your new setup is not helping your productivity, make sure to change it up until you find a way that works for you. Don't settle for a setup that isn't comfortable!
Stay tuned for the next part of this series, where we'll transition the conversation to digital clutter, because even though it can be helpful to have your physical workspace feel neat and tidy, the need for organization extends beyond what you can see on your desk. And remember, everyone's needs and approaches to staying organized look different, so take these tips and make them your own!
References
Threlkeld, K., 2021. Employee Burnout Report: COVID-19's Impact and 3 Strategies to Curb It. Web. https://www.indeed.com/lead/preventing-employee-burnout-report
Ghaffari, N., 2021. The Mental Health Benefits of Cleaning, Organizing, & Decluttering Your Space. Web. https://recovery.org/pro/articles/the-mental-health-benefits-of-cleaning-organizing-decluttering-your-space/
Gordon, S., 2021. The Relationship Between Mental Health and Cleaning. Web.
https://www.verywellmind.com/how-mental-health-and-cleaning-are-connected-5097496#citation-7 Goldberg, A., 2021. How To Stay Organized And Sane Working From Home In 2021. Forbes. https://www.forbes.com/sites/jenjamula-allisongoldberg/2021/02/02/how-to-stay-organized-and-sane-working-from-home-in-2021/?sh=73c865f820f1
---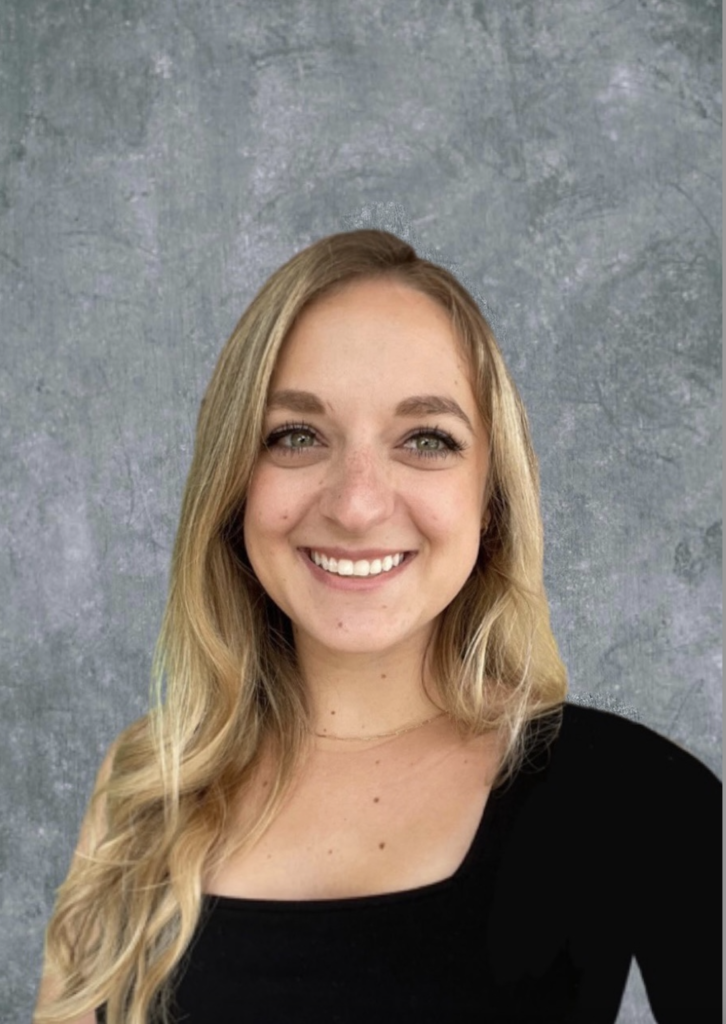 Dominique Rothrock joined FMP Consulting in May 2019 and is a Human Capital Consultant and a Certified Scrum Master (CSM). She attended Florida State University where she received her M.S. in International Affairs. She is part of the FMP Social Committee, Social Media Team and new FMP Community of Practice for Communications and Design. When she isn't providing creative solutions for her current change management or data transformation projects, Dominique enjoys embroidery, painting, all other crafts and DIY activities, and hanging out with her Bichpoo puppy, Luca.